What Do Watch Repairer Do?
Watch Repairer Job Description Repair, clean, and adjust mechanisms of timing instruments, such as watches and clocks. Includes watchmakers, watch technicians, and mechanical timepiece repairers.
Life As a Watch Repairer: What Do They Do?
Oil moving parts of timepieces.
Disassemble timepieces and inspect them for defective, worn, misaligned, or rusty parts, using loupes.
Fabricate parts for watches and clocks, using small lathes and other machines.
Estimate repair costs and timepiece values.
Test and replace batteries and other electronic components.
Gather information from customers about a timepiece's problems and its service history.
What Every Watch Repairer Should Know
Below is a list of the skills most Watch Repairers say are important on the job.
Repairing: Repairing machines or systems using the needed tools.
Critical Thinking: Using logic and reasoning to identify the strengths and weaknesses of alternative solutions, conclusions or approaches to problems.
Operation Monitoring: Watching gauges, dials, or other indicators to make sure a machine is working properly.
Equipment Maintenance: Performing routine maintenance on equipment and determining when and what kind of maintenance is needed.
Active Listening: Giving full attention to what other people are saying, taking time to understand the points being made, asking questions as appropriate, and not interrupting at inappropriate times.
Speaking: Talking to others to convey information effectively.
Related Job Titles for this Occupation:
Dial Printer
Watch Technician (Watch Tech)
Time Clock Inspector
Watchmaker
Clock Mechanic
Is There Job Demand for Watch Repairers?
In the United States, there were 1,800 jobs for Watch Repairer in 2016. There is little to no growth in job opportunities for Watch Repairer. There will be an estimated 100 positions for Watch Repairer per year.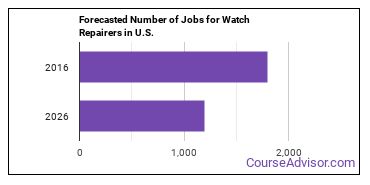 The states with the most job growth for Watch Repairer are Washington, Colorado, and Florida. Watch out if you plan on working in Nebraska, Indiana, or Ohio. These states have the worst job growth for this type of profession.
How Much Does a Watch Repairer Make?
The salary for Watch Repairers ranges between about $23,240 and $68,500 a year.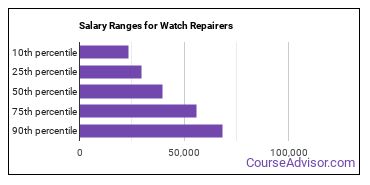 Watch Repairers who work in Michigan, Missouri, or Oregon, make the highest salaries.
Below is a list of the median annual salaries for Watch Repairers in different U.S. states.
| State | Annual Mean Salary |
| --- | --- |
| Alabama | $29,390 |
| California | $49,950 |
| Colorado | $49,320 |
| Florida | $51,260 |
| Georgia | $38,340 |
| Indiana | $44,730 |
| Maryland | $28,610 |
| Michigan | $54,590 |
| Missouri | $52,880 |
| New Jersey | $51,760 |
| New York | $35,340 |
| Ohio | $44,690 |
| Oregon | $50,950 |
| Rhode Island | $43,680 |
| Tennessee | $42,580 |
| Texas | $44,240 |
| Utah | $53,580 |
Tools & Technologies Used by Watch Repairers
Although they're not necessarily needed for all jobs, the following technologies are used by many Watch Repairers:
Microsoft Excel
Microsoft Word
Microsoft Office
Word processing software
Intuit QuickBooks
SAP software
IBM Lotus Notes
How do I Become a Watch Repairer?
Education needed to be a Watch Repairer: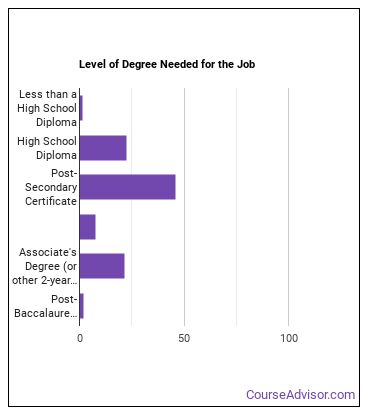 How Long Does it Take to Become a Watch Repairer?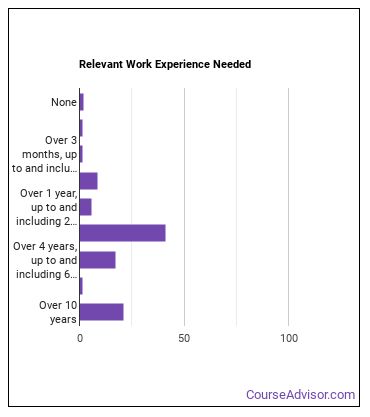 Where Watch Repairers Are Employed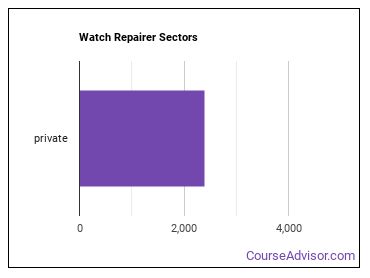 The table below shows some of the most common industries where those employed in this career field work.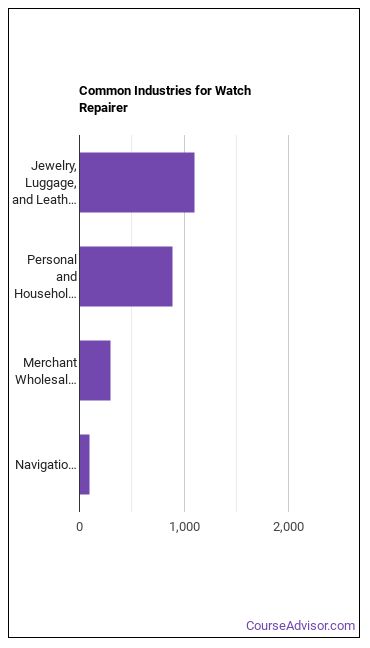 References:
Image Credit: Phasmatisnox via CC BY 3.0
More about our data sources and methodologies.