Life As an Urban & Regional Planner
Career Description Develop comprehensive plans and programs for use of land and physical facilities of jurisdictions, such as towns, cities, counties, and metropolitan areas.
Urban & Regional Planner Responsibilities
Determine the effects of regulatory limitations on land use projects.
Advocate for sustainability to community groups, government agencies, the general public, or special interest groups.
Recommend approval, denial, or conditional approval of proposals.
Investigate property availability for purposes of development.
Identify opportunities or develop plans for sustainability projects or programs to improve energy efficiency, minimize pollution or waste, or restore natural systems.
Develop plans for public or alternative transportation systems for urban or regional locations to reduce carbon output associated with transportation.
What an Urban & Regional Planner Should Know
When polled, Urban and Regional Planners say the following skills are most frequently used in their jobs:
Reading Comprehension: Understanding written sentences and paragraphs in work related documents.
Active Listening: Giving full attention to what other people are saying, taking time to understand the points being made, asking questions as appropriate, and not interrupting at inappropriate times.
Speaking: Talking to others to convey information effectively.
Critical Thinking: Using logic and reasoning to identify the strengths and weaknesses of alternative solutions, conclusions or approaches to problems.
Judgment and Decision Making: Considering the relative costs and benefits of potential actions to choose the most appropriate one.
Types of Urban & Regional Planner Jobs
Neighborhood Planner
Sustainable Development Policy Analyst
Planner
Transportation Specialist
Regional Planner
Is There Going to be Demand for Urban and Regional Planners?
There were about 36,000 jobs for Urban and Regional Planners in 2016 (in the United States).
New jobs are being produced at a rate of 12.8% which is lower than average. The Bureau of Labor Statistics predicts 4,600 new jobs for Urban and Regional Planners by 2026. The BLS estimates 3,500 yearly job openings in this field per year.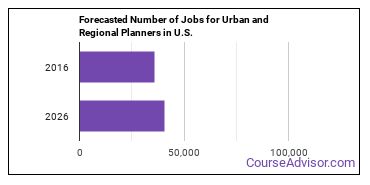 The states with the most job growth for Urban and Regional Planners are California, Texas, and Florida.
Watch out if you plan on working in Alaska, Wyoming, or South Dakota. These states have the worst job growth for this type of profession.
Salary for Urban and Regional Planners
The average yearly salary of an Urban & Regional Planner ranges between $45,180 and $114,170. An Urban and Regional Planner median salary is $73,050.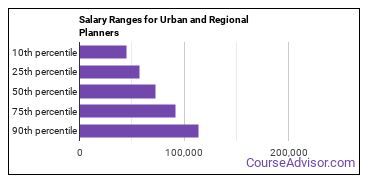 How much do Urban and Regional Planners make in each U.S. state?
Annual Mean Salary by State

| State | Annual Mean Salary |
| --- | --- |
| District of Columbia | $110,100 |
| California | $93,790 |
| Alaska | $83,630 |
| Massachusetts | $81,660 |
| Oregon | $81,590 |
| Nevada | $81,300 |
| Washington | $81,250 |
| Connecticut | $79,500 |
| Maryland | $77,750 |
| New York | $76,730 |
| Hawaii | $76,230 |
| Colorado | $75,610 |
| Rhode Island | $74,510 |
| Illinois | $74,420 |
| New Jersey | $74,120 |
| Virginia | $73,770 |
| Minnesota | $73,330 |
| Florida | $72,910 |
| North Dakota | $72,310 |
| Louisiana | $71,570 |
| Missouri | $71,080 |
| Arizona | $70,860 |
| Ohio | $69,950 |
| Wisconsin | $69,840 |
| Texas | $69,070 |
| Nebraska | $68,490 |
| Maine | $67,730 |
| Pennsylvania | $67,720 |
| Utah | $67,660 |
| Kansas | $67,370 |
| North Carolina | $66,650 |
| Iowa | $66,160 |
| Michigan | $65,390 |
| South Carolina | $64,700 |
| Delaware | $64,120 |
| Wyoming | $63,380 |
| Oklahoma | $62,860 |
| New Hampshire | $62,430 |
| Idaho | $61,320 |
| Vermont | $60,780 |
| Georgia | $60,270 |
| Tennessee | $60,030 |
| New Mexico | $59,980 |
| Alabama | $59,630 |
| Montana | $58,600 |
| Mississippi | $57,330 |
| West Virginia | $57,170 |
| Indiana | $56,800 |
| South Dakota | $56,780 |
| Arkansas | $53,750 |
| Kentucky | $53,330 |
Tools & Technologies Used by Urban and Regional Planners
Although they're not necessarily needed for all jobs, the following technologies are used by many Urban and Regional Planners:
Caliper TransCAD
Bentley MicroStation
Autodesk AutoCAD MAP3D
Adobe Systems Adobe Illustrator
3D urban simulation modeling software
Tangible Media Group Luminous Table
Enterprise resource planning ERP software
MultiGen Paradigm 3D GIS
Adobe Systems Adobe Acrobat
Computer aided design CAD software
Where Urban and Regional Planners Work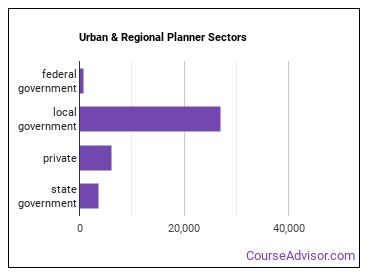 Related Careers
Those interested in being an Urban and Regional Planner may also be interested in:
References
Image Credit: Via Wikimedia Commons