Life As a Tutor
Job Description & Duties Provide non-classroom, academic instruction to students on an individual or small-group basis for proactive or remedial purposes.
Life as a Tutor: What Do They Do?
Review class material with students by discussing text, working solutions to problems, or reviewing worksheets or other assignments.
Participate in training and development sessions to improve tutoring practices or learn new tutoring techniques.
Assess students' progress throughout tutoring sessions.
Organize tutoring environment to promote productivity and learning.
Identify, develop, or implement intervention strategies, tutoring plans, or individualized education plans (IEPs) for students.
Provide private instruction to individual or small groups of students to improve academic performance, improve occupational skills, or prepare for academic or occupational tests.
Qualities of a Tutor
Tutors state the following job skills are important in their day-to-day work.
Instructing: Teaching others how to do something.
Active Listening: Giving full attention to what other people are saying, taking time to understand the points being made, asking questions as appropriate, and not interrupting at inappropriate times.
Learning Strategies: Selecting and using training/instructional methods and procedures appropriate for the situation when learning or teaching new things.
Reading Comprehension: Understanding written sentences and paragraphs in work related documents.
Speaking: Talking to others to convey information effectively.
Types of Tutors
History Tutor
MCAT Instructor
Corporate Tutor
Academic Guidance Specialist
English Language Learner Tutor (ELL Tutor)
Tutor Job Outlook
There were about 993,900 jobs for Teachers in 2016 (in the United States).
New jobs are being produced at a rate of 9.9% which is lower than average. The Bureau of Labor Statistics predicts 98,000 new jobs for Tutors by 2026. There will be an estimated 122,200 positions for Tutor per year.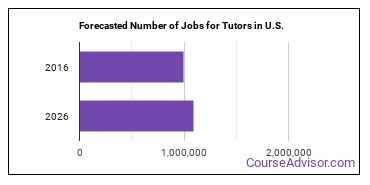 The states with the most job growth for Teachers are Texas, California, and New York.
Watch out if you plan on working in Vermont, Maine, or Alaska. These states have the worst job growth for this type of profession.
Tools & Technologies Used by Tutors
Although they're not necessarily needed for all jobs, the following technologies are used by many Tutors:
References
Image Credit: Via Wikimedia Commons