What is a Transportation Worker?
Transportation Worker Job Description All transportation workers not listed separately.
Other Transportation Worker Job Titles
Food or Baggage Handling Rampman
Ramp Attendant
Check Pilot
Jinriksha Driver (Rickshaw)
Rickshaw Driver
What Kind of Transportation Worker Job Opportunities Are There?
There were about 38,000 jobs for Transportation Workers in 2016 (in the United States).
New jobs are being produced at a rate of 8.3% which is lower than average. The Bureau of Labor Statistics predicts 3,100 new jobs for Transportation Workers by 2026. There will be an estimated 4,800 positions for Transportation Worker per year.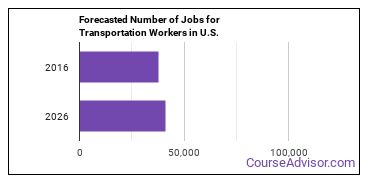 The states with the most job growth for Transportation Workers are California, Florida, and New Jersey.
Watch out if you plan on working in Wisconsin, South Dakota, or Rhode Island. These states have the worst job growth for this type of profession.
Salary for Transportation Workers
The typical yearly salary for Transportation Workers is somewhere between $22,150 and $70,910. The median salary for this occupation is $37,490.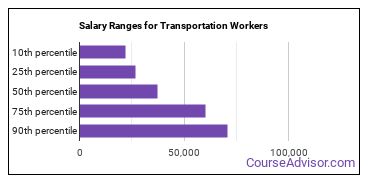 How much do Transportation Workers make in different U.S. states?
Annual Mean Salary by State

| State | Annual Mean Salary |
| --- | --- |
| Colorado | $51,080 |
| Massachusetts | $48,560 |
| Pennsylvania | $47,710 |
| District of Columbia | $47,050 |
| Utah | $45,530 |
| Nevada | $45,200 |
| Alaska | $44,960 |
| Ohio | $44,160 |
| Washington | $42,840 |
| South Carolina | $42,210 |
| Oregon | $40,400 |
| Hawaii | $40,400 |
| Delaware | $39,520 |
| Michigan | $38,940 |
| Nebraska | $38,390 |
| Wyoming | $37,260 |
| Florida | $37,260 |
| Tennessee | $36,400 |
| Connecticut | $36,400 |
| Arizona | $36,400 |
| New York | $36,120 |
| Oklahoma | $34,940 |
| Indiana | $34,370 |
| Georgia | $33,610 |
| Maryland | $33,370 |
| Kentucky | $33,150 |
| North Dakota | $32,180 |
| Mississippi | $31,620 |
| Rhode Island | $31,000 |
| Montana | $30,970 |
| Minnesota | $30,810 |
| West Virginia | $30,750 |
| New Mexico | $30,450 |
| Iowa | $30,070 |
| Kansas | $29,480 |
| Wisconsin | $29,440 |
| Alabama | $29,220 |
| Arkansas | $28,970 |
| Idaho | $28,060 |
| Maine | $27,150 |
| North Carolina | $26,410 |
| Louisiana | $25,930 |
| Missouri | $25,590 |
Where Transportation Workers Work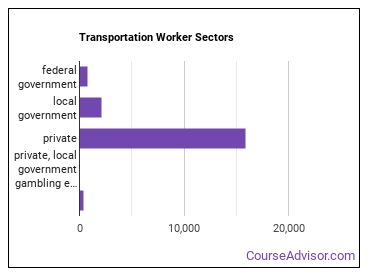 References
Image Credit: Via Wikimedia Commons