All About Substance Abuse Counselors
Substance Abuse Counselor Job Description Counsel and advise individuals with alcohol, tobacco, drug, or other problems, such as gambling and eating disorders. May counsel individuals, families, or groups or engage in prevention programs.
List of Substance Abuse Counselor Job Duties
Coordinate counseling efforts with mental health professionals or other health professionals, such as doctors, nurses, or social workers.
Confer with family members or others close to clients to keep them informed of treatment planning and progress.
Train or supervise student interns or new staff members.
Act as liaisons between clients and medical staff.
Counsel clients or patients, individually or in group sessions, to assist in overcoming dependencies, adjusting to life, or making changes.
Develop, implement, or evaluate public education, prevention, or health promotion programs, working in collaboration with organizations, institutions, or communities.
Skills Needed to be a Substance Abuse Counselor
Below is a list of the skills most Substance Abuse Counselors say are important on the job.
Active Listening: Giving full attention to what other people are saying, taking time to understand the points being made, asking questions as appropriate, and not interrupting at inappropriate times.
Speaking: Talking to others to convey information effectively.
Social Perceptiveness: Being aware of others' reactions and understanding why they react as they do.
Reading Comprehension: Understanding written sentences and paragraphs in work related documents.
Critical Thinking: Using logic and reasoning to identify the strengths and weaknesses of alternative solutions, conclusions or approaches to problems.
Types of Substance Abuse Counselor Jobs
Quitline Counselor
Certified Alcohol Drug Counselor (CADC)
Assessment Specialist
Case Manager
Drug Abuse Technician
Job Outlook for Substance Abuse Counselors
There were about 102,400 jobs for Substance Abuse and Behavioral Disorder Counselors in 2016 (in the United States).
New jobs are being produced at a rate of 23.2% which is lower than average. The Bureau of Labor Statistics predicts 23,800 new jobs for Substance Abuse Counselors by 2026. The BLS estimates 14,100 yearly job openings in this field per year.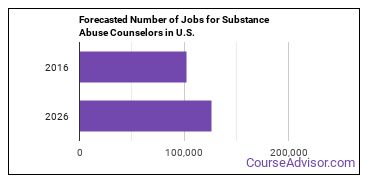 The states with the most job growth for Substance Abuse and Behavioral Disorder Counselors are New York, California, and Florida.
Watch out if you plan on working in Rhode Island, Alaska, or Wyoming. These states have the worst job growth for this type of profession.
What Tools do Substance Abuse Counselors Use?
Below is a list of the types of tools and technologies that Substance Abuse Counselors may use on a daily basis:
Microsoft Excel
Microsoft PowerPoint
Microsoft Office
Microsoft Outlook
Microsoft Word
How do I Become a Substance Abuse Counselor?
Education needed to be a Substance Abuse Counselor: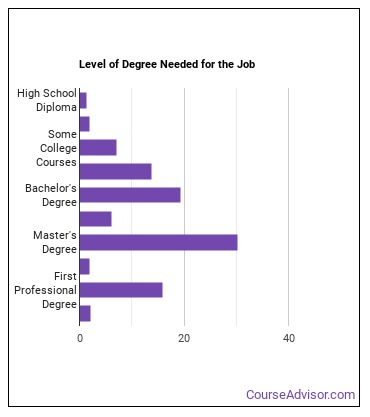 How many years of work experience do I need?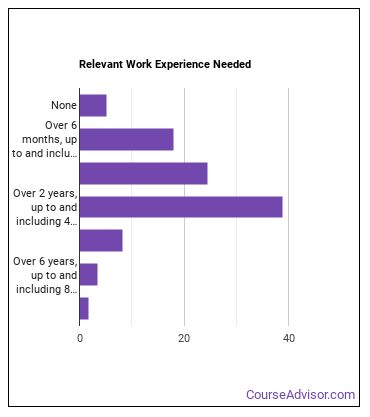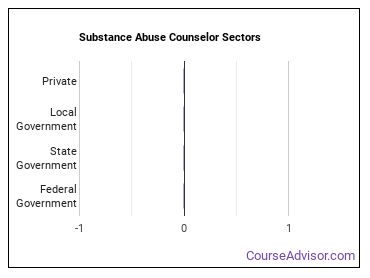 Other Jobs You May be Interested In
Those thinking about becoming Substance Abuse Counselors might also be interested in the following careers:
Psychiatrists
Advanced Practice Psychiatric Nurses
Low Vision Therapists, Orientation and Mobility Specialists, and Vision Rehabilitation Therapists
Are you already one of the many Substance Abuse Counselors in the United States? If you're thinking about changing careers, these fields are worth exploring:
Clinical Psychologists
Psychiatric Technicians
References
Image Credit: Via Wikimedia Commons