What Do Solar Photovoltaic Installers Do?
Occupation Description Assemble, install, or maintain solar photovoltaic (PV) systems on roofs or other structures in compliance with site assessment and schematics. May include measuring, cutting, assembling, and bolting structural framing and solar modules. May perform minor electrical work such as current checks.
A Day in the Life of a Solar Photovoltaic Installer
Determine photovoltaic (PV) system designs or configurations based on factors such as customer needs, expectations, and site conditions.
Identify installation locations with proper orientation, area, solar access, or structural integrity for photovoltaic (PV) arrays.
Determine materials, equipment, and installation sequences necessary to maximize installation efficiency.
Program, adjust, or configure inverters and controls for desired set points and operating modes.
Install active solar systems, including solar collectors, concentrators, pumps, or fans.
Compile or maintain records of system operation, performance, and maintenance.
Solar Photovoltaic Installer Needed Skills
Below is a list of the skills most Solar Photovoltaic Installers say are important on the job.
Installation: Installing equipment, machines, wiring, or programs to meet specifications.
Active Listening: Giving full attention to what other people are saying, taking time to understand the points being made, asking questions as appropriate, and not interrupting at inappropriate times.
Critical Thinking: Using logic and reasoning to identify the strengths and weaknesses of alternative solutions, conclusions or approaches to problems.
Monitoring: Monitoring/Assessing performance of yourself, other individuals, or organizations to make improvements or take corrective action.
Judgment and Decision Making: Considering the relative costs and benefits of potential actions to choose the most appropriate one.
Types of Solar Photovoltaic Installers
Solar Panel Installer
Photovoltaic Testing Technician (PV Testing Technician)
Photovoltaic Fabrication Technician (PV Fabrication Technician)
PV Installer Tech
Photovoltaic Installation Technician (PV Installation Technician)
Are There Job Opportunities for Solar Photovoltaic Installers?
In the United States, there were 11,300 jobs for Solar Photovoltaic Installers in 2016.
New jobs are being produced at a rate of 104.9% which is lower than average. The Bureau of Labor Statistics predicts 11,800 new jobs for Solar Photovoltaic Installers by 2026. The BLS estimates 3,000 yearly job openings in this field per year.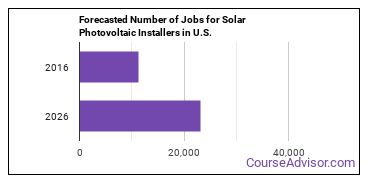 The states with the most job growth for Solar Photovoltaic Installers are California, Florida, and New Jersey.
Watch out if you plan on working in Indiana, Missouri, or Ohio. These states have the worst job growth for this type of profession.
Do Solar Photovoltaic Installers Make A Lot Of Money?
The typical yearly salary for Solar Photovoltaic Installers is somewhere between $30,180 and $63,580. The median salary is $42,680.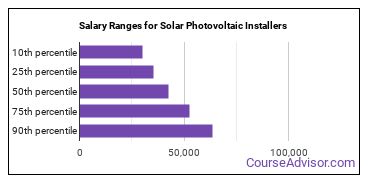 Below is a list of the median annual salaries for jobs of this type in different U.S. states.
Annual Mean Salary by State

| State | Annual Mean Salary |
| --- | --- |
| Michigan | $57,610 |
| New Jersey | $55,140 |
| Hawaii | $54,420 |
| Massachusetts | $53,310 |
| Oregon | $53,140 |
| Louisiana | $50,340 |
| Nevada | $49,260 |
| New York | $48,630 |
| Colorado | $48,280 |
| Maryland | $47,290 |
| New Hampshire | $46,480 |
| California | $46,390 |
| Utah | $44,440 |
| Texas | $42,920 |
| New Mexico | $39,900 |
| Vermont | $39,720 |
| Virginia | $39,590 |
| Maine | $39,500 |
| Florida | $38,660 |
| Iowa | $37,610 |
| Missouri | $35,890 |
| North Carolina | $33,830 |
| Arizona | $33,750 |
What Tools do Solar Photovoltaic Installers Use?
Below is a list of the types of tools and technologies that Solar Photovoltaic Installers may use on a daily basis:
Microsoft Excel
Salesforce software
Computer aided design CAD software
Microsoft Outlook
Microsoft Office
Extensible markup language XML
Microsoft Word
Becoming a Solar Photovoltaic Installer
What education or degrees do I need to become a Solar Photovoltaic Installer?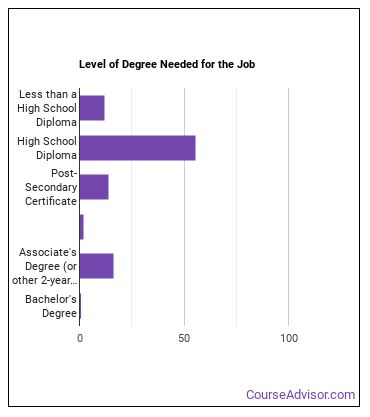 How Long Does it Take to Become Solar Photovoltaic Installer?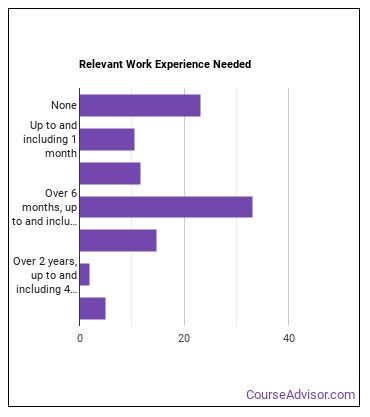 Where do Solar Photovoltaic Installers Work?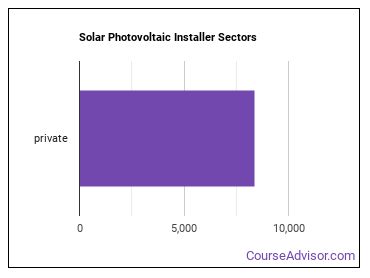 References
Image Credit: Via Wikimedia Commons