What You Need to Know About Rotary Drill Operators
Position Description Set up or operate a variety of drills to remove underground oil and gas, or remove core samples for testing during oil and gas exploration.
A Day in the Life of a Drill Operator
Bolt together pump and engine parts, and connect tanks and flow lines.
Repair or replace defective parts of machinery, such as rotary drill rigs, water trucks, air compressors, and pumps, using hand tools.
Line drilled holes with pipes, and install all necessary hardware, to prepare new wells.
Weigh clay, and mix with water and chemicals to make drilling mud.
Lower and explode charges in boreholes to start flow of oil from wells.
Cap wells with packers, or turn valves, to regulate outflow of oil from wells.
What Skills Do You Need to Work as a Drill Operator?
When polled, Rotary Drill Operators say the following skills are most frequently used in their jobs:
Operation Monitoring: Watching gauges, dials, or other indicators to make sure a machine is working properly.
Operation and Control: Controlling operations of equipment or systems.
Critical Thinking: Using logic and reasoning to identify the strengths and weaknesses of alternative solutions, conclusions or approaches to problems.
Monitoring: Monitoring/Assessing performance of yourself, other individuals, or organizations to make improvements or take corrective action.
Active Listening: Giving full attention to what other people are saying, taking time to understand the points being made, asking questions as appropriate, and not interrupting at inappropriate times.
Types of Rotary Drill Operators
Geotechnical Driller
Blast Driller
Rig Operator
Cable Tool Driller
Cable Tool Operator
Job Outlook for Rotary Drill Operators
There were about 16,700 jobs for Rotary Drill Operators, Oil and Gas in 2016 (in the United States).
New jobs are being produced at a rate of 24.2% which is lower than average. The Bureau of Labor Statistics predicts 4,000 new jobs for Rotary Drill Operators by 2026. There will be an estimated 2,600 positions for Drill Operator per year.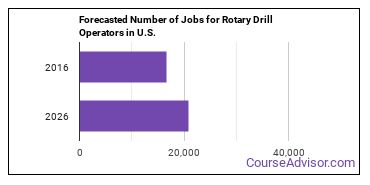 The states with the most job growth for Rotary Drill Operators, Oil and Gas are Texas, North Dakota, and Oklahoma.
Watch out if you plan on working in West Virginia, Nebraska, or Indiana. These states have the worst job growth for this type of profession.
Salary for Rotary Drill Operators
The salary for Rotary Drill Operators, Oil and Gas ranges between about $32,110 and $87,790 a year. The median salary is $53,800.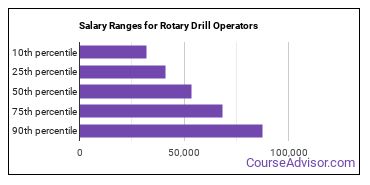 How much do Rotary Drill Operators, Oil and Gas make in each U.S. state?
Annual Mean Salary by State

| State | Annual Mean Salary |
| --- | --- |
| Alaska | $74,290 |
| Indiana | $67,000 |
| California | $66,630 |
| North Dakota | $66,440 |
| Wyoming | $61,510 |
| Oklahoma | $57,620 |
| Utah | $56,700 |
| Maryland | $56,540 |
| Texas | $56,490 |
| Colorado | $55,870 |
| West Virginia | $55,790 |
| Pennsylvania | $54,040 |
| New York | $53,120 |
| Virginia | $52,530 |
| Louisiana | $52,520 |
| Arizona | $48,650 |
| Florida | $47,130 |
| Ohio | $45,210 |
| Illinois | $45,100 |
| Kansas | $44,920 |
| New Mexico | $44,540 |
| Arkansas | $43,870 |
| Alabama | $42,450 |
| Michigan | $41,080 |
| Georgia | $34,310 |
Tools & Technologies Used by Rotary Drill Operators
Although they're not necessarily needed for all jobs, the following technologies are used by many Rotary Drill Operators:
Microsoft Word
Microsoft Excel
Becoming a Drill Operator
What education is needed to be a Rotary Drill Operator?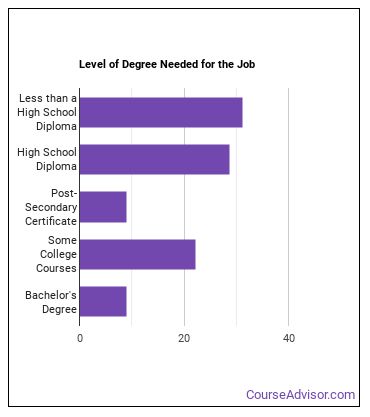 How many years of work experience do I need?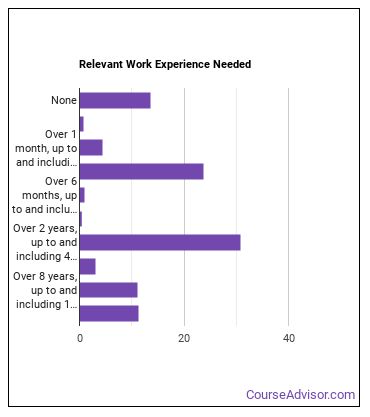 Where Rotary Drill Operators Work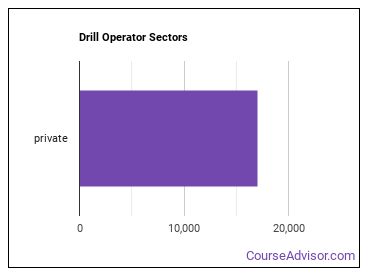 Other Jobs You May be Interested In
Those interested in being a Rotary Drill Operator may also be interested in:
References
Image Credit: Via Wikimedia Commons