What You Need to Know About Mining Roof Bolters
Career Description Operate machinery to install roof support bolts in underground mine.
Life as a Mining Roof Bolter: What Do They Do?
Perform tests to determine if methane gas is present.
Install various types of bolts including truss, glue, and resin bolts, traversing entire ceiling spans.
Perform safety checks on equipment before operating.
Drill test holes and test bolts for specified tension, using torque wrenches.
Position safety jacks to support underground mine roofs until bolts can be installed.
Pull down loose rock that cannot be supported.
What a Mining Roof Bolter Should Know
When polled, Mining Roof Bolters say the following skills are most frequently used in their jobs:
Operation and Control: Controlling operations of equipment or systems.
Critical Thinking: Using logic and reasoning to identify the strengths and weaknesses of alternative solutions, conclusions or approaches to problems.
Operation Monitoring: Watching gauges, dials, or other indicators to make sure a machine is working properly.
Troubleshooting: Determining causes of operating errors and deciding what to do about it.
Monitoring: Monitoring/Assessing performance of yourself, other individuals, or organizations to make improvements or take corrective action.
Related Job Titles
Bolt Machine Operator
Underground Miner
Underground Mine Superintendent
Underground Mining Section Foreman
Roof Bolter Operator
Mining Roof Bolter Employment Estimates
There were about 3,700 jobs for Roof Bolters, Mining in 2016 (in the United States).
Mining Roof Bolter jobs are decreasing by a rate of -5.2%. This means the total job opportunities are shrinking. The Bureau of Labor Statistics predicts a loss of -200 jobs for Mining Roof Bolters by 2026. Due to new job openings and attrition, there will be an average of 400 job openings in this field each year.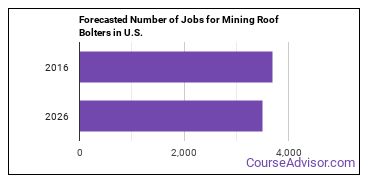 The states with the most job growth for Roof Bolters, Mining are Idaho, Nebraska, and Pennsylvania.
Watch out if you plan on working in Kentucky, Illinois, or Alabama. These states have the worst job growth for this type of profession.
Mining Roof Bolter Average Salary
The typical yearly salary for Roof Bolters, Mining is somewhere between $43,330 and $77,690. A Mining Roof Bolter median salary is $58,650.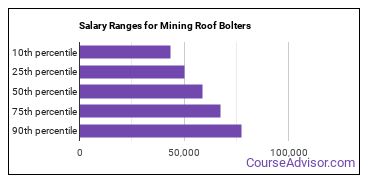 How much do Roof Bolters, Mining make in each U.S. state?
Annual Mean Salary by State

| State | Annual Mean Salary |
| --- | --- |
| Wyoming | $92,720 |
| Pennsylvania | $68,570 |
| West Virginia | $60,880 |
| Illinois | $59,350 |
| Indiana | $52,540 |
| Kentucky | $47,420 |
Tools & Technologies Used by Mining Roof Bolters
Although they're not necessarily needed for all jobs, the following technologies are used by many Mining Roof Bolters:
Caterpillar Cat MineStar System
Data entry software
How to Become a Mining Roof Bolter
Are there Mining Roof Bolter education requirements?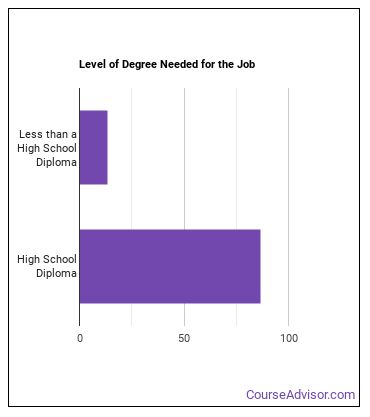 How many years of work experience do I need?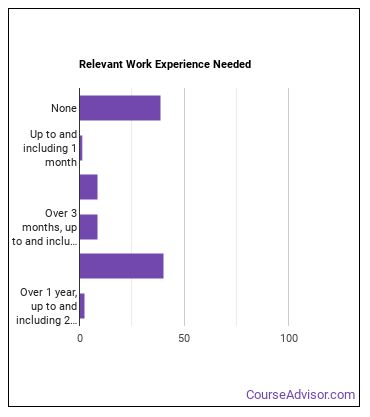 Where Mining Roof Bolters Work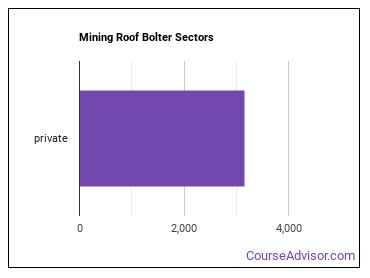 You May Also Be Interested In…
Those thinking about becoming Mining Roof Bolters might also be interested in the following careers:
Continuous Mining Machine Operators
Adhesive Bonding Machine Operators and Tenders
References
Image Credit: Via Wikimedia Commons