What is a Rail Transport Worker?
Example of a Rail Transport Worker Job All rail transportation workers not listed separately.
Other Rail Transport Worker Job Titles
Tower Director
Target Man
Rail Tractor Operator
Control Tower Operator
Oiler Helper
Is There Going to be Demand for Rail Transportation Workers?
In 2016, there was an estimated number of 4,600 jobs in the United States for Rail Transportation Workers.
New jobs are being produced at a rate of 3.1% which is lower than average. The Bureau of Labor Statistics predicts 100 new jobs for Rail Transportation Workers by 2026. Due to new job openings and attrition, there will be an average of 400 job openings in this field each year.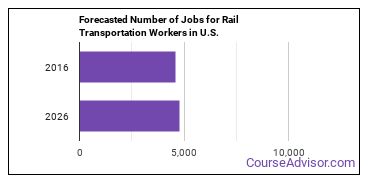 The states with the most job growth for Rail Transportation Workers are Illinois, New Jersey, and North Carolina.
Watch out if you plan on working in Washington, New Mexico, or Minnesota. These states have the worst job growth for this type of profession.
Salary for Rail Transportation Workers
The average yearly salary of a Rail Transport Worker ranges between $32,020 and $96,310. The median salary is $55,410.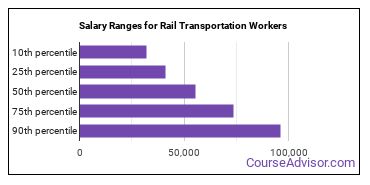 Below is a list of the median annual salaries for jobs of this type in different U.S. states.
Annual Mean Salary by State

| State | Annual Mean Salary |
| --- | --- |
| New Jersey | $72,440 |
| California | $70,000 |
| Illinois | $63,850 |
| Maryland | $56,190 |
| Florida | $49,820 |
| Minnesota | $43,360 |
| Louisiana | $37,550 |
Where Rail Transportation Workers Are Employed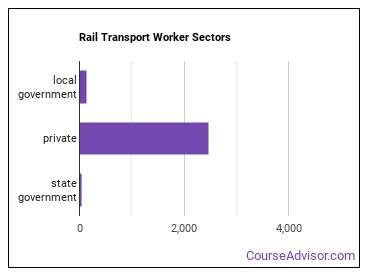 References
Image Credit: Via Wikimedia Commons