What Do Product Safety Engineers Do?
Occupation Description Develop and conduct tests to evaluate product safety levels and recommend measures to reduce or eliminate hazards.
What do Product Safety Engineers do On a Daily Basis?
Investigate causes of accidents, injuries, or illnesses related to product usage to develop solutions to minimize or prevent recurrence.
Conduct research to evaluate safety levels for products.
Evaluate potential health hazards or damage that could occur from product misuse.
Evaluate product designs for safety.
Recommend procedures for detection, prevention, and elimination of physical, chemical, or other product hazards.
Participate in preparation of product usage and precautionary label instructions.
What Skills Do You Need to Work as a Product Safety Engineer?
Product Safety Engineers state the following job skills are important in their day-to-day work.
Reading Comprehension: Understanding written sentences and paragraphs in work related documents.
Critical Thinking: Using logic and reasoning to identify the strengths and weaknesses of alternative solutions, conclusions or approaches to problems.
Active Listening: Giving full attention to what other people are saying, taking time to understand the points being made, asking questions as appropriate, and not interrupting at inappropriate times.
Writing: Communicating effectively in writing as appropriate for the needs of the audience.
Speaking: Talking to others to convey information effectively.
Other Product Safety Engineer Job Titles
Product Safety Administrator
Product Safety Lead
Product Safety Professional
Service Loss Control Consultant
Product Safety Consultant
Job Opportunities for Product Safety Engineers
In the United States, there were 25,900 jobs for Health and Safety Engineers, Except Mining Safety Engineers and Inspectors in 2016.
New jobs are being produced at a rate of 8.6% which is lower than average. The Bureau of Labor Statistics predicts 2,200 new jobs for Product Safety Engineers by 2026. Due to new job openings and attrition, there will be an average of 1,900 job openings in this field each year.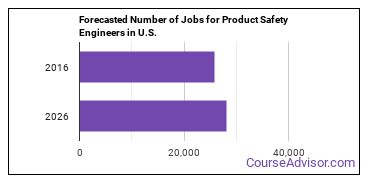 The states with the most job growth for Health and Safety Engineers, Except Mining Safety Engineers and Inspectors are Texas, California, and New York.
Watch out if you plan on working in Alaska, Wyoming, or Vermont. These states have the worst job growth for this type of profession.
Do Product Safety Engineers Make A Lot Of Money?
Health and Safety Engineers, Except Mining Safety Engineers and Inspectors Make between $53,170 and $142,970 a year. A Product Safety Engineer median salary is $89,130.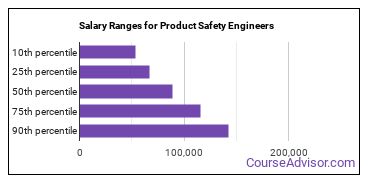 Below is a list of the median annual salaries for jobs of this type in different U.S. states.
Annual Mean Salary by State

| State | Annual Mean Salary |
| --- | --- |
| District of Columbia | $118,890 |
| New Mexico | $116,350 |
| Pennsylvania | $107,950 |
| California | $107,290 |
| Delaware | $107,040 |
| New Jersey | $106,080 |
| Texas | $104,580 |
| Colorado | $103,940 |
| Nevada | $102,030 |
| Connecticut | $99,350 |
| Washington | $99,180 |
| Massachusetts | $99,090 |
| Alabama | $97,260 |
| Virginia | $96,810 |
| Maryland | $96,670 |
| New York | $95,530 |
| Idaho | $95,430 |
| Oklahoma | $94,550 |
| Minnesota | $93,150 |
| Missouri | $92,890 |
| Ohio | $92,710 |
| Louisiana | $89,190 |
| Michigan | $88,980 |
| Illinois | $88,320 |
| Indiana | $88,220 |
| New Hampshire | $87,960 |
| Oregon | $86,700 |
| Kansas | $86,210 |
| Kentucky | $85,560 |
| Nebraska | $85,490 |
| Rhode Island | $84,120 |
| Tennessee | $83,960 |
| Vermont | $83,770 |
| Alaska | $83,460 |
| Hawaii | $82,190 |
| South Carolina | $80,980 |
| Florida | $80,170 |
| Utah | $80,070 |
| Maine | $79,700 |
| Georgia | $78,780 |
| North Carolina | $78,570 |
| West Virginia | $78,490 |
| Arkansas | $78,030 |
| Montana | $76,080 |
| Iowa | $75,400 |
| Arizona | $74,580 |
| North Dakota | $73,820 |
| South Dakota | $70,120 |
| Mississippi | $67,720 |
| Wisconsin | $67,360 |
Tools & Technologies Used by Product Safety Engineers
Although they're not necessarily needed for all jobs, the following technologies are used by many Product Safety Engineers:
Linux
Microsoft Excel
Microsoft Access
Microsoft Word
SAP
Autodesk AutoCAD
Microsoft Office
Microsoft PowerPoint
C++
Microsoft Visual Basic
Where Product Safety Engineers Work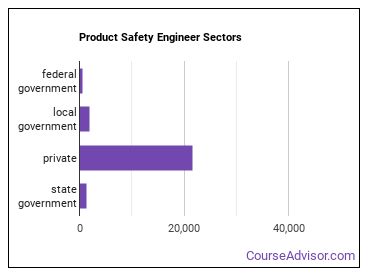 Similar Careers
Are you already one of the many Product Safety Engineers in the United States? If you're thinking about changing careers, these fields are worth exploring:
References
Image Credit: Via Wikimedia Commons