Life As a Naturopathic Physician
Naturopathic Physician Definition Diagnose, treat, and help prevent diseases using a system of practice that is based on the natural healing capacity of individuals. May use physiological, psychological or mechanical methods. May also use natural medicines, prescription or legend drugs, foods, herbs, or other natural remedies.
List of Naturopathic Physician Job Duties
Treat minor cuts, abrasions, or contusions.
Document patients' histories, including identifying data, chief complaints, illnesses, previous medical or family histories, or psychosocial characteristics.
Perform mobilizations and high-velocity adjustments to joints or soft tissues, using principles of massage, stretching, or resistance.
Maintain professional development through activities such as post-graduate education, continuing education, preceptorships, and residency programs.
Obtain medical records from previous physicians or other health care providers for the purpose of patient evaluation.
Report patterns of patients' health conditions, such as disease status and births, to public health agencies.
What Skills Do You Need to Work as a Naturopathic Physician?
Below is a list of the skills most Naturopathic Physicians say are important on the job.
Reading Comprehension: Understanding written sentences and paragraphs in work related documents.
Active Listening: Giving full attention to what other people are saying, taking time to understand the points being made, asking questions as appropriate, and not interrupting at inappropriate times.
Social Perceptiveness: Being aware of others' reactions and understanding why they react as they do.
Speaking: Talking to others to convey information effectively.
Critical Thinking: Using logic and reasoning to identify the strengths and weaknesses of alternative solutions, conclusions or approaches to problems.
Types of Naturopathic Physicians
Physician
Naturopathic Oncology Provider
Naturopathic Doctor
Naturopathic Physician
Naturopath
Job Opportunities for Naturopathic Physicians
There were about 56,400 jobs for Health Diagnosing and Treating Practitioners in 2016 (in the United States).
New jobs are being produced at a rate of 13.3% which is lower than average. The Bureau of Labor Statistics predicts 7,500 new jobs for Naturopathic Physicians by 2026. The BLS estimates 3,800 yearly job openings in this field per year.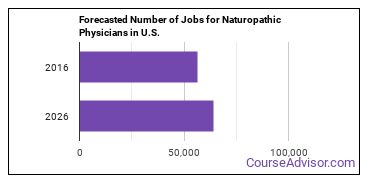 The states with the most job growth for Health Diagnosing and Treating Practitioners are California, Florida, and New York.
Watch out if you plan on working in Wyoming, South Dakota, or Mississippi. These states have the worst job growth for this type of profession.
Salary for Naturopathic Physicians
The salary for Health Diagnosing and Treating Practitioners ranges between about $40,910 and $141,330 a year. A Naturopathic Physician median salary is $73,960.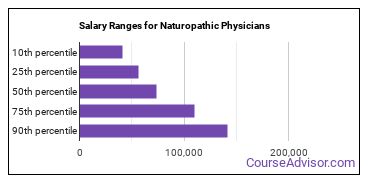 How much do Health Diagnosing and Treating Practitioners make in different U.S. states?
Annual Mean Salary by State

| State | Annual Mean Salary |
| --- | --- |
| Maryland | $126,550 |
| District of Columbia | $122,830 |
| Georgia | $107,530 |
| Louisiana | $104,930 |
| North Carolina | $92,950 |
| Washington | $89,590 |
| New Jersey | $89,220 |
| Massachusetts | $88,290 |
| Delaware | $87,300 |
| Virginia | $86,250 |
| Minnesota | $86,010 |
| Ohio | $84,760 |
| Vermont | $83,520 |
| Oregon | $83,430 |
| Rhode Island | $79,950 |
| Connecticut | $79,750 |
| Maine | $79,090 |
| Michigan | $78,210 |
| Pennsylvania | $77,950 |
| New York | $77,400 |
| Hawaii | $76,650 |
| Alabama | $75,360 |
| Wisconsin | $75,260 |
| Alaska | $74,750 |
| Utah | $74,310 |
| California | $74,080 |
| Montana | $73,070 |
| Kansas | $72,840 |
| Oklahoma | $72,510 |
| New Hampshire | $72,400 |
| South Carolina | $72,050 |
| Arizona | $70,780 |
| New Mexico | $70,490 |
| Texas | $70,270 |
| Missouri | $68,600 |
| Illinois | $67,600 |
| Mississippi | $67,310 |
| Florida | $66,660 |
| West Virginia | $64,840 |
| South Dakota | $63,640 |
| Colorado | $61,630 |
| Indiana | $61,420 |
| Kentucky | $60,670 |
| Tennessee | $59,990 |
| Idaho | $59,640 |
| Nevada | $52,800 |
| Nebraska | $51,310 |
| North Dakota | $48,300 |
Tools & Technologies Used by Naturopathic Physicians
Below is a list of the types of tools and technologies that Naturopathic Physicians may use on a daily basis:
Where Naturopathic Physicians Are Employed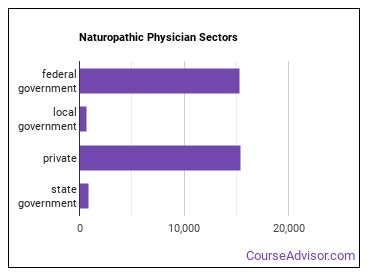 Similar Careers
Those interested in being a Naturopathic Physician may also be interested in:
Career changers with experience as a Naturopathic Physician sometimes find work in one of the following fields:
References
Image Credit: Via Wikimedia Commons