Life As a model
Job Description: Model garments or other apparel and accessories for prospective buyers at fashion shows, private showings, or retail establishments. May pose for photos to be used in magazines or advertisements. May pose as subject for paintings, sculptures, and other types of artistic expression.
Life As a model
Pose for artists and photographers.
Assemble and maintain portfolios, print composite cards, and travel to go-sees to obtain jobs.
Report job completions to agencies and obtain information about future appointments.
Make many quick changes backstage during fashion shows and yet maintain poised appearance before audiences.
Hand out samples or gifts, demonstrate products, and converse with children and adults while dressed in costume.
Inform prospective purchasers about models, numbers, and prices of garments, the garments' designers, and where garments can be purchased.
What a model Should Know
When polled, models say the following skills are most frequently used in their jobs:
Social Perceptiveness: Being aware of others' reactions and understanding why they react as they do.
Active Listening: Giving full attention to what other people are saying, taking time to understand the points being made, asking questions as appropriate, and not interrupting at inappropriate times.
Time Management: Managing one's own time and the time of others.
Speaking: Talking to others to convey information effectively.
Reading Comprehension: Understanding written sentences and paragraphs in work related documents.
Other model Job Titles
Art Model
Actor
Clothes Model
Studio Model
Agency Director
What Kind of model Job Opportunities Are There?
In 2016, there was an estimated number of 4,800 jobs in the United States for Models.
Model jobs are decreasing by a rate of -1.3%. This means the total job opportunities are shrinking. The Bureau of Labor Statistics predicts a loss of -100 jobs for models by 2026. There will be an estimated 800 positions for model per year.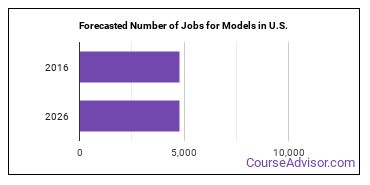 The states with the most job growth for Models are Texas, New York, and Oregon.
Watch out if you plan on working in Iowa, Ohio, or Idaho. These states have the worst job growth for this type of profession.
Do models Make A Lot Of Money?
The salary for Models ranges between about $18,320 and $49,140 a year. A model median salary is $23,770.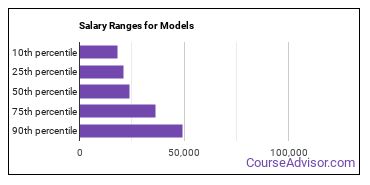 How much do Models make in different U.S. states?
Annual Mean Salary by State

| State | Annual Mean Salary |
| --- | --- |
| New Jersey | $55,110 |
| Florida | $51,370 |
| California | $43,810 |
| Ohio | $39,860 |
| Pennsylvania | $39,090 |
| Massachusetts | $35,330 |
| Oregon | $34,770 |
| New York | $34,720 |
| Maryland | $34,110 |
| Illinois | $27,110 |
| Virginia | $26,230 |
| Arizona | $24,050 |
| Tennessee | $20,190 |
| Texas | $19,560 |
Tools & Technologies Used by models
Below is a list of the types of tools and technologies that models may use on a daily basis:
How to Become a model
What education or degrees do I need to become a model?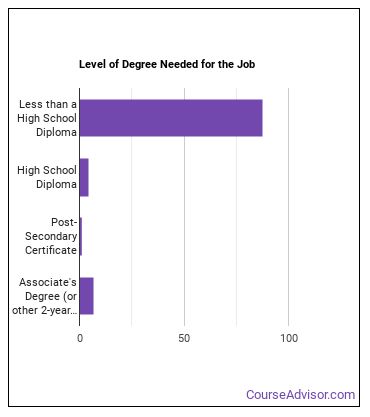 How Long Does it Take to Become model?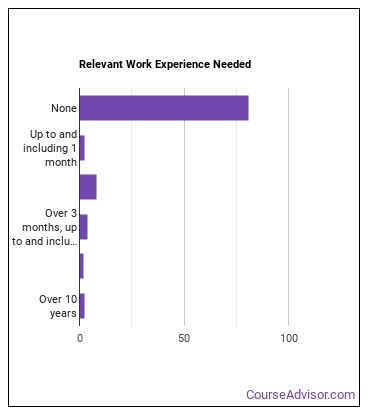 Who Employs models?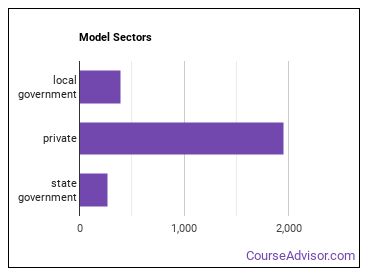 References
Image Credit: Via Wikimedia Commons