What is a Marine Engineer?
Position Description Design, develop, and take responsibility for the installation of ship machinery and related equipment including propulsion machines and power supply systems.
A Day in the Life of a Marine Engineer
Confer with research personnel to clarify or resolve problems and to develop or modify designs.
Investigate and observe tests on machinery and equipment for compliance with standards.
Maintain contact with, and formulate reports for, contractors and clients to ensure completion of work at minimum cost.
Prepare, or direct the preparation of, product or system layouts and detailed drawings and schematics.
Analyze data to determine feasibility of product proposals.
Coordinate activities with regulatory bodies to ensure repairs and alterations are at minimum cost and consistent with safety.
Marine Engineer Skills
Marine Engineers state the following job skills are important in their day-to-day work.
Critical Thinking: Using logic and reasoning to identify the strengths and weaknesses of alternative solutions, conclusions or approaches to problems.
Reading Comprehension: Understanding written sentences and paragraphs in work related documents.
Active Listening: Giving full attention to what other people are saying, taking time to understand the points being made, asking questions as appropriate, and not interrupting at inappropriate times.
Speaking: Talking to others to convey information effectively.
Judgment and Decision Making: Considering the relative costs and benefits of potential actions to choose the most appropriate one.
Other Marine Engineer Job Titles
Marine Engineering Consultant
Marine Engineer
Marine Consultant
Consulting Marine Engineer
Marine Service Engineer
Job Outlook for Marine Engineers
There were about 8,200 jobs for Marine Engineers and Naval Architects in 2016 (in the United States).
New jobs are being produced at a rate of 11.5% which is lower than average. The Bureau of Labor Statistics predicts 1,000 new jobs for Marine Engineers by 2026. There will be an estimated 600 positions for Marine Engineer per year.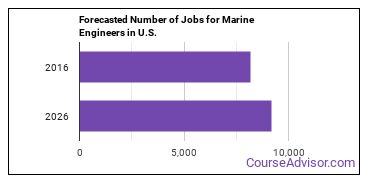 The states with the most job growth for Marine Engineers and Naval Architects are Virginia, Texas, and District of Columbia.
Watch out if you plan on working in Wisconsin, Pennsylvania, or Oregon. These states have the worst job growth for this type of profession.
Do Marine Engineers Make A Lot Of Money?
The typical yearly salary for Marine Engineers and Naval Architects is somewhere between $65,090 and $148,950. The median salary for this occupation is $92,560.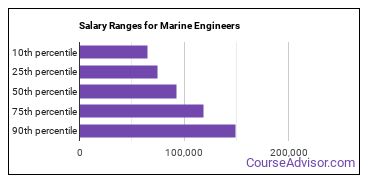 How much do Marine Engineers and Naval Architects make in different U.S. states?
Annual Mean Salary by State

| State | Annual Mean Salary |
| --- | --- |
| California | $126,140 |
| New York | $120,860 |
| District of Columbia | $118,090 |
| Alaska | $116,100 |
| Maryland | $114,010 |
| Louisiana | $106,850 |
| Mississippi | $106,130 |
| Florida | $94,310 |
| New Jersey | $93,770 |
| Texas | $92,830 |
| Washington | $91,670 |
| Virginia | $91,480 |
| Missouri | $81,590 |
| Hawaii | $78,980 |
| Massachusetts | $75,110 |
Tools & Technologies Used by Marine Engineers
Below is a list of the types of tools and technologies that Marine Engineers may use on a daily basis:
The MathWorks MATLAB
Microsoft Project
Autodesk AutoCAD
ShipConstructor
Structural Dynamics StruCAD*3D
SAP
Microsoft Outlook
Siemens PLM Software NX
PTC Creo Parametric
Research Engineers International STAAD.Pro
Where do Marine Engineers Work?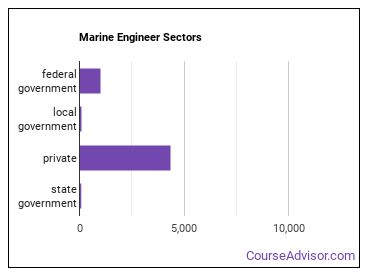 Related Careers
Those thinking about becoming Marine Engineers might also be interested in the following careers:
Soil and Water Conservationists
References
Image Credit: Via Wikimedia Commons