What is a Makeup Artist?
Position Description Apply makeup to performers to reflect period, setting, and situation of their role.
List of Makeup Artist Job Duties
Write makeup sheets and take photos to document specific looks and the products used to achieve the looks.
Establish budgets, and work within budgetary limits.
Duplicate work precisely to replicate characters' appearances on a daily basis.
Attach prostheses to performers and apply makeup to create special features or effects, such as scars, aging, or illness.
Assess performers' skin type to ensure that makeup will not cause break-outs or skin irritations.
Examine sketches, photographs, and plaster models to obtain desired character image depiction.
Qualities of a Makeup Artist
Below is a list of the skills most Makeup Artists say are important on the job.
Speaking: Talking to others to convey information effectively.
Reading Comprehension: Understanding written sentences and paragraphs in work related documents.
Active Listening: Giving full attention to what other people are saying, taking time to understand the points being made, asking questions as appropriate, and not interrupting at inappropriate times.
Critical Thinking: Using logic and reasoning to identify the strengths and weaknesses of alternative solutions, conclusions or approaches to problems.
Judgment and Decision Making: Considering the relative costs and benefits of potential actions to choose the most appropriate one.
Types of Makeup Artists
Makeup Artist
Special Effects Makeup Artist
Special Effects Technician
Commercial Makeup Artist
Body Make-Up Artist
Are There Job Opportunities for Makeup Artists?
In the United States, there were 4,800 jobs for Makeup Artists, Theatrical and Performance in 2016.
New jobs are being produced at a rate of 12.5% which is lower than average. The Bureau of Labor Statistics predicts 600 new jobs for Makeup Artists by 2026. The BLS estimates 600 yearly job openings in this field per year.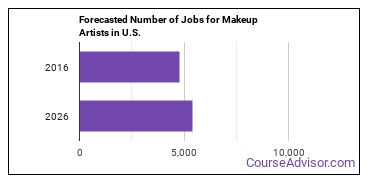 The states with the most job growth for Makeup Artists, Theatrical and Performance are New York, California, and Texas.
Watch out if you plan on working in Washington, Indiana, or North Carolina. These states have the worst job growth for this type of profession.
How Much Does a Makeup Artist Make?
The salary for Makeup Artists, Theatrical and Performance ranges between about $22,460 and $130,710 a year. A Makeup Artist median salary is $64,250.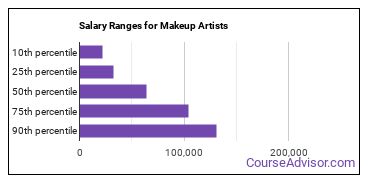 Below is a list of the median annual salaries for jobs of this type in different U.S. states.
Annual Mean Salary by State

| State | Annual Mean Salary |
| --- | --- |
| Tennessee | $88,090 |
| District of Columbia | $84,320 |
| California | $79,820 |
| New York | $77,030 |
| Florida | $63,950 |
| Georgia | $58,100 |
| Hawaii | $47,720 |
| Texas | $42,550 |
| Nevada | $37,340 |
| Louisiana | $35,720 |
What Tools do Makeup Artists Use?
Although they're not necessarily needed for all jobs, the following technologies are used by many Makeup Artists:
Facebook
Microsoft Office
Intuit QuickBooks
Microsoft Excel
Adobe Systems Adobe Photoshop
Where Makeup Artists Are Employed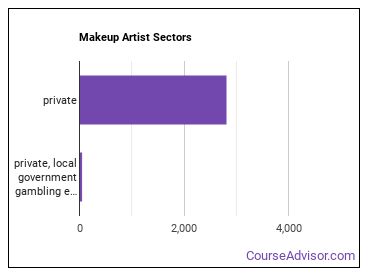 Related Careers
Those thinking about becoming Makeup Artists might also be interested in the following careers:
Sound Engineering Technicians
References
Image Credit: Via Wikimedia Commons