What Does it Take to Be a Logistician?
Job Description: Analyze and coordinate the logistical functions of a firm or organization. Responsible for the entire life cycle of a product, including acquisition, distribution, internal allocation, delivery, and final disposal of resources.
Daily Life Of a Logistician
Perform system lifecycle cost analysis and develop component studies.
Perform managerial duties such as hiring and training employees and overseeing facility needs or requirements.
Protect and control proprietary materials.
Manage the logistical aspects of product life cycles, including coordination or provisioning of samples, and the minimization of obsolescence.
Report project plans, progress, and results.
Maintain and develop positive business relationships with a customer's key personnel involved in, or directly relevant to, a logistics activity.
Qualities of a Logistician
Below is a list of the skills most Logisticians say are important on the job.
Critical Thinking: Using logic and reasoning to identify the strengths and weaknesses of alternative solutions, conclusions or approaches to problems.
Reading Comprehension: Understanding written sentences and paragraphs in work related documents.
Active Listening: Giving full attention to what other people are saying, taking time to understand the points being made, asking questions as appropriate, and not interrupting at inappropriate times.
Speaking: Talking to others to convey information effectively.
Monitoring: Monitoring/Assessing performance of yourself, other individuals, or organizations to make improvements or take corrective action.
Related Job Titles for this Occupation:
Logistics Specialist
Logistics Vice President
Logistician
Program Manager
Supervisory Supply Management Specialist
Is There Going to be Demand for Logisticians?
In the United States, there were 148,700 jobs for Logisticians in 2016.
New jobs are being produced at a rate of 6.9% which is lower than average. The Bureau of Labor Statistics predicts 10,300 new jobs for Logisticians by 2026. The BLS estimates 15,600 yearly job openings in this field per year.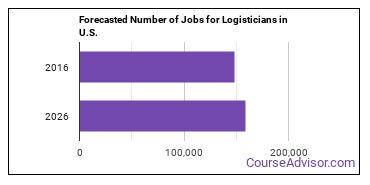 The states with the most job growth for Logisticians are Texas, California, and Florida.
Watch out if you plan on working in Wyoming, Vermont, or South Dakota. These states have the worst job growth for this type of profession.
Do Logisticians Make A Lot Of Money?
The salary for Logisticians ranges between about $44,440 and $119,950 a year. The median salary is $74,600.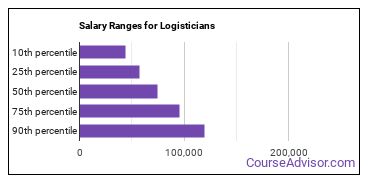 How much do Logisticians make in different U.S. states?
Annual Mean Salary by State

| State | Annual Mean Salary |
| --- | --- |
| Rhode Island | $105,730 |
| District of Columbia | $95,000 |
| Maryland | $91,710 |
| Washington | $90,240 |
| Alabama | $87,600 |
| Alaska | $86,860 |
| Texas | $86,500 |
| Virginia | $86,230 |
| Hawaii | $84,540 |
| California | $84,260 |
| New Jersey | $84,240 |
| New Mexico | $80,400 |
| Pennsylvania | $80,370 |
| Michigan | $80,150 |
| Wyoming | $79,020 |
| Louisiana | $79,010 |
| Massachusetts | $78,910 |
| Connecticut | $77,940 |
| North Carolina | $76,600 |
| Missouri | $76,540 |
| New York | $76,240 |
| Ohio | $76,090 |
| Colorado | $75,700 |
| Oregon | $75,260 |
| Minnesota | $75,250 |
| Mississippi | $75,200 |
| Oklahoma | $75,160 |
| Arizona | $74,780 |
| Idaho | $74,700 |
| South Dakota | $73,940 |
| Utah | $73,860 |
| Kentucky | $73,610 |
| Kansas | $72,990 |
| Nevada | $72,790 |
| New Hampshire | $71,930 |
| Montana | $71,800 |
| Georgia | $70,900 |
| Indiana | $70,830 |
| Maine | $70,620 |
| Vermont | $70,590 |
| Arkansas | $70,320 |
| West Virginia | $69,620 |
| Florida | $69,100 |
| South Carolina | $68,280 |
| Illinois | $67,490 |
| North Dakota | $64,300 |
| Iowa | $63,560 |
| Wisconsin | $62,690 |
| Tennessee | $61,940 |
| Nebraska | $58,920 |
Tools & Technologies Used by Logisticians
Below is a list of the types of tools and technologies that Logisticians may use on a daily basis:
SAP
Structured query language SQL
Microsoft Access
Microsoft PowerPoint
Microsoft Outlook
IBM Cognos Impromptu
Microsoft SQL Server
Microsoft Excel
Microsoft Dynamics
Microsoft Word
Where Logisticians Work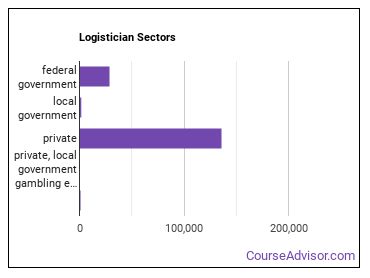 Other Jobs You May be Interested In
Those thinking about becoming Logisticians might also be interested in the following careers:
Emergency Management Directors
Property, Real Estate, and Community Association Managers
Career changers with experience as a Logistician sometimes find work in one of the following fields:
Storage and Distribution Managers
Transportation Planners
References
Image Credit: Via Wikimedia Commons