What Do Instructional Designers and Technologists Do?
Job Description: Develop instructional materials and products and assist in the technology-based redesign of courses. Assist faculty in learning about, becoming proficient in, and applying instructional technology.
Life as an Instructional Designer or Technologist: What Do They Do?
Recommend changes to curricula or delivery methods, based on information such as instructional effectiveness data, current or future performance requirements, feasibility, and costs.
Define instructional, learning, or performance objectives.
Research and evaluate emerging instructional technologies or methods.
Develop instructional materials and products for technology-based redesign of courses.
Interview subject matter experts or conduct other research to develop instructional content.
Present and make recommendations regarding course design, technology, and instruction delivery options.
What Skills Do You Need to Work as an Instructional Designer or Technologist?
These are the skills Instructional Designers and Technologists say are the most useful in their careers:
Reading Comprehension: Understanding written sentences and paragraphs in work related documents.
Instructing: Teaching others how to do something.
Learning Strategies: Selecting and using training/instructional methods and procedures appropriate for the situation when learning or teaching new things.
Writing: Communicating effectively in writing as appropriate for the needs of the audience.
Critical Thinking: Using logic and reasoning to identify the strengths and weaknesses of alternative solutions, conclusions or approaches to problems.
Other Instructional Designer or Technologist Job Titles
Instructional Systems Designer
Instructional Technology Site Technologist
Lead Performance Support Analyst
Instructional Technologist
Learning Development Specialist
Instructional Designer or Technologist Job Outlook
In 2016, there was an estimated number of 163,200 jobs in the United States for Instructional Coordinators.
New jobs are being produced at a rate of 10.5% which is lower than average. The Bureau of Labor Statistics predicts 17,200 new jobs for Instructional Designers and Technologists by 2026. There will be an estimated 16,900 positions for Instructional Designer or Technologist per year.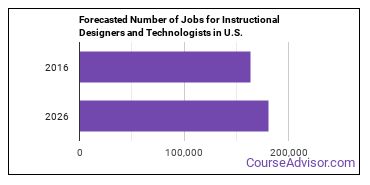 The states with the most job growth for Instructional Coordinators are Texas, California, and New York.
Watch out if you plan on working in Wyoming, Vermont, or Alaska. These states have the worst job growth for this type of profession.
Average Instructional Designer or Technologist Salary
The typical yearly salary for Instructional Coordinators is somewhere between $36,360 and $102,200. An Instructional Designer or Technologist median salary is $64,450.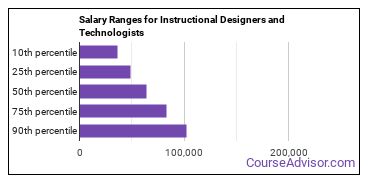 Below is a list of the median annual salaries for jobs of this type in different U.S. states.
Annual Mean Salary by State

| State | Annual Mean Salary |
| --- | --- |
| District of Columbia | $93,400 |
| Connecticut | $92,330 |
| California | $80,860 |
| Oregon | $78,200 |
| Massachusetts | $76,270 |
| New Jersey | $75,980 |
| Virginia | $75,710 |
| Maryland | $73,430 |
| Alabama | $72,270 |
| New York | $71,440 |
| Iowa | $69,450 |
| Alaska | $69,130 |
| Minnesota | $69,070 |
| Hawaii | $68,880 |
| Washington | $68,480 |
| Pennsylvania | $67,890 |
| Delaware | $67,640 |
| Illinois | $67,540 |
| Colorado | $67,520 |
| Wyoming | $67,300 |
| Georgia | $66,820 |
| Michigan | $66,750 |
| Texas | $66,060 |
| Nevada | $65,740 |
| Wisconsin | $65,270 |
| Nebraska | $64,870 |
| Ohio | $64,680 |
| Maine | $63,250 |
| North Dakota | $63,030 |
| New Hampshire | $62,800 |
| Indiana | $62,760 |
| South Dakota | $62,150 |
| New Mexico | $60,740 |
| Kentucky | $60,530 |
| Vermont | $59,440 |
| Missouri | $59,400 |
| Rhode Island | $59,090 |
| Mississippi | $58,730 |
| Arkansas | $58,380 |
| South Carolina | $58,040 |
| Utah | $57,530 |
| Kansas | $57,320 |
| North Carolina | $56,480 |
| Tennessee | $56,220 |
| West Virginia | $55,880 |
| Oklahoma | $55,800 |
| Montana | $54,430 |
| Idaho | $53,390 |
| Florida | $52,900 |
| Arizona | $52,310 |
| Louisiana | $51,200 |
Tools & Technologies Used by Instructional Designers and Technologists
Although they're not necessarily needed for all jobs, the following technologies are used by many Instructional Designers and Technologists:
Adobe Systems Adobe Acrobat
Microsoft Office
Microsoft PowerPoint
Adobe Systems Adobe InDesign
PTC Creo Parametric
Adobe Systems Adobe Illustrator
SAS
Microsoft Excel
Drupal
Epic Systems
Where Instructional Designers and Technologists Are Employed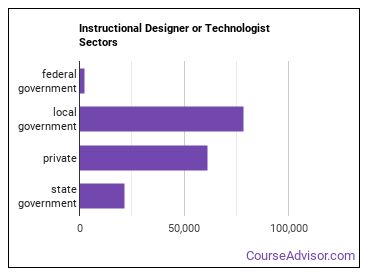 References
Image Credit: Via Wikimedia Commons