What You Need to Know About Geographers
Geographer Job Description Study the nature and use of areas of the Earth's surface, relating and interpreting interactions of physical and cultural phenomena. Conduct research on physical aspects of a region, including land forms, climates, soils, plants, and animals, and conduct research on the spatial implications of human activities within a given area, including social characteristics, economic activities, and political organization, as well as researching interdependence between regions at scales ranging from local to global.
Daily Life Of a Geographer
Teach geography.
Write and present reports of research findings.
Provide geographical information systems support to the private and public sectors.
Gather and compile geographic data from sources including censuses, field observations, satellite imagery, aerial photographs, and existing maps.
Develop, operate, and maintain geographical information computer systems, including hardware, software, plotters, digitizers, printers, and video cameras.
Collect data on physical characteristics of specified areas, such as geological formations, climates, and vegetation, using surveying or meteorological equipment.
Geographer Skills
When polled, Geographers say the following skills are most frequently used in their jobs:
Reading Comprehension: Understanding written sentences and paragraphs in work related documents.
Writing: Communicating effectively in writing as appropriate for the needs of the audience.
Speaking: Talking to others to convey information effectively.
Active Listening: Giving full attention to what other people are saying, taking time to understand the points being made, asking questions as appropriate, and not interrupting at inappropriate times.
Critical Thinking: Using logic and reasoning to identify the strengths and weaknesses of alternative solutions, conclusions or approaches to problems.
Related Job Titles for this Occupation:
Physical Geographer
Scientist
GIS Physical Scientist (Geographic Information Systems Physical Scientist)
GIS Geographer (Geographic Information Systems Geographer)
Economic Geographer
What Kind of Geographer Job Opportunities Are There?
In the United States, there were 1,500 jobs for Geographers in 2016.
New jobs are being produced at a rate of 6.7% which is lower than average. The Bureau of Labor Statistics predicts 100 new jobs for Geographers by 2026. There will be an estimated 200 positions for Geographer per year.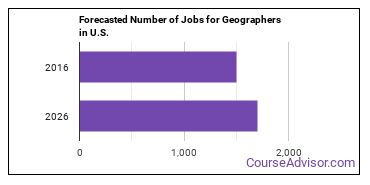 The states with the most job growth for Geographers are Texas, Georgia, and Missouri.
Watch out if you plan on working in Wisconsin, Washington, or North Carolina. These states have the worst job growth for this type of profession.
How Much Does a Geographer Make?
The salary for Geographers ranges between about $50,720 and $109,900 a year. The median salary for this occupation is $80,300.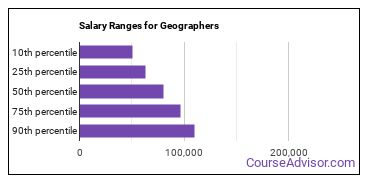 How much do Geographers make in different U.S. states?
Annual Mean Salary by State

| State | Annual Mean Salary |
| --- | --- |
| California | $85,530 |
| Maryland | $84,990 |
| Colorado | $84,380 |
| Washington | $83,530 |
| Louisiana | $81,160 |
| Georgia | $79,030 |
| Oregon | $78,630 |
| Missouri | $76,320 |
| Arizona | $69,730 |
| Minnesota | $67,820 |
| Texas | $65,000 |
What Tools & Technology do Geographers Use?
Although they're not necessarily needed for all jobs, the following technologies are used by many Geographers:
Geographic information system GIS software
Microsoft Excel
Microsoft Office
Minitab
IBM SPSS Statistics
The MathWorks MATLAB
ESRI ArcGIS software
Adobe Systems Adobe Photoshop
Adobe Systems Adobe Dreamweaver
Autodesk AutoCAD
Who Employs Geographers?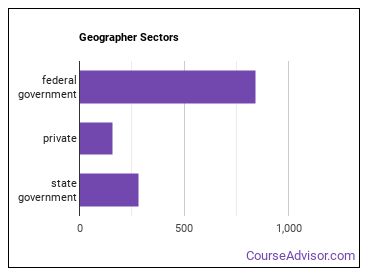 Other Jobs You May be Interested In
Those interested in being a Geographer may also be interested in:
Those who work as Geographers sometimes switch careers to one of these choices:
Sociology Professors
Area, Ethnic, and Cultural Studies Professors
History Professors
References
Image Credit: Via Wikimedia Commons