Life As a Genetic Counselor
Genetic Counselor Definition Assess individual or family risk for a variety of inherited conditions, such as genetic disorders and birth defects. Provide information to other healthcare providers or to individuals and families concerned with the risk of inherited conditions. Advise individuals and families to support informed decisionmaking and coping methods for those at risk. May help conduct research related to genetic conditions or genetic counseling.
List of Genetic Counselor Job Duties
Provide genetic counseling in specified areas of clinical genetics, such as obstetrics, pediatrics, oncology and neurology.
Determine or coordinate treatment plans by requesting laboratory services, reviewing genetics or counseling literature, and considering histories or diagnostic data.
Provide patients with information about the inheritance of conditions such as cardiovascular disease, Alzheimer's disease, diabetes, and various forms of cancer.
Evaluate or make recommendations for standards of care or clinical operations, ensuring compliance with applicable regulations, ethics, legislation, or policies.
Discuss testing options and the associated risks, benefits and limitations with patients and families to assist them in making informed decisions.
Prepare or provide genetics-related educational materials to patients or medical personnel.
Qualities of a Genetic Counselor
When polled, Genetic Counselors say the following skills are most frequently used in their jobs:
Reading Comprehension: Understanding written sentences and paragraphs in work related documents.
Active Listening: Giving full attention to what other people are saying, taking time to understand the points being made, asking questions as appropriate, and not interrupting at inappropriate times.
Complex Problem Solving: Identifying complex problems and reviewing related information to develop and evaluate options and implement solutions.
Writing: Communicating effectively in writing as appropriate for the needs of the audience.
Speaking: Talking to others to convey information effectively.
Types of Genetic Counselor Jobs
Chromosomal Disorders Counselor
Cancer Program Consultant
Certified Genetic Counselor
Pediatric Genetic Counselor
Prenatal and Pediatric Genetic Counselor
Job Demand for Genetic Counselors
There were about 3,100 jobs for Genetic Counselors in 2016 (in the United States).
New jobs are being produced at a rate of 29% which is lower than average. The Bureau of Labor Statistics predicts 900 new jobs for Genetic Counselors by 2026. Due to new job openings and attrition, there will be an average of 300 job openings in this field each year.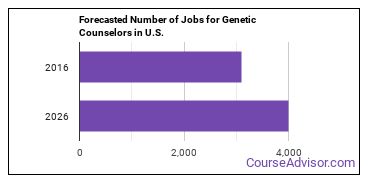 The states with the most job growth for Genetic Counselors are New York, Florida, and Illinois.
Watch out if you plan on working in Nebraska, Idaho, or Wisconsin. These states have the worst job growth for this type of profession.
Genetic Counselor Average Salary
The typical yearly salary for Genetic Counselors is somewhere between $52,750 and $107,450. The median salary is $80,370.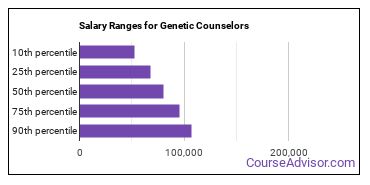 How much do Genetic Counselors make in each U.S. state?
Annual Mean Salary by State

| State | Annual Mean Salary |
| --- | --- |
| Nevada | $95,830 |
| Texas | $92,960 |
| California | $89,530 |
| Colorado | $87,290 |
| New York | $86,810 |
| New Jersey | $85,420 |
| Utah | $85,330 |
| Washington | $84,450 |
| Illinois | $83,580 |
| Massachusetts | $83,540 |
| Georgia | $82,370 |
| Wisconsin | $82,070 |
| South Carolina | $81,140 |
| Oregon | $80,870 |
| Arizona | $80,160 |
| District of Columbia | $79,300 |
| Minnesota | $78,550 |
| Ohio | $77,110 |
| Tennessee | $75,680 |
| Indiana | $74,950 |
| Pennsylvania | $73,410 |
| Missouri | $72,780 |
| Michigan | $71,710 |
| North Carolina | $71,600 |
| Maryland | $68,370 |
| Florida | $54,730 |
| Alabama | $48,800 |
What Tools & Technology do Genetic Counselors Use?
Below is a list of the types of tools and technologies that Genetic Counselors may use on a daily basis:
Microsoft Word
Microsoft PowerPoint
Microsoft Office
Microsoft Excel
Microsoft Access
Who Employs Genetic Counselors?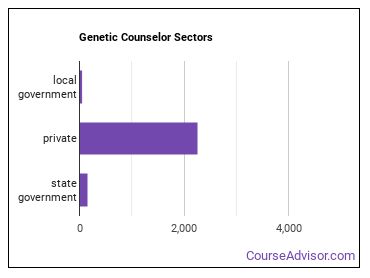 Similar Careers
Those thinking about becoming Genetic Counselors might also be interested in the following careers:
Physician Assistants
Psychology Professors
Counseling Psychologists
References
Image Credit: Via Wikimedia Commons