What You Need to Know About Floor Sanders and Finishers
Position Description Scrape and sand wooden floors to smooth surfaces using floor scraper and floor sanding machine, and apply coats of finish.
Life As a Floor Sander & Finisher
Attach sandpaper to rollers of sanding machines.
Inspect floors for smoothness.
Scrape and sand floor edges and areas inaccessible to floor sanders, using scrapers, disk-type sanders, and sandpaper.
Remove excess glue from joints, using knives, scrapers, or wood chisels.
Guide sanding machines over surfaces of floors until surfaces are smooth.
Apply filler compound and coats of finish to floors to seal wood.
Qualities of a Floor Sander & Finisher
When polled, Floor Sanders and Finishers say the following skills are most frequently used in their jobs:
Active Listening: Giving full attention to what other people are saying, taking time to understand the points being made, asking questions as appropriate, and not interrupting at inappropriate times.
Operation and Control: Controlling operations of equipment or systems.
Monitoring: Monitoring/Assessing performance of yourself, other individuals, or organizations to make improvements or take corrective action.
Complex Problem Solving: Identifying complex problems and reviewing related information to develop and evaluate options and implement solutions.
Coordination: Adjusting actions in relation to others' actions.
Types of Floor Sander & Finisher Jobs
Floor Renovator
Hardwood Floor Installer
Wood Floor Refinisher
Hardwood Floor Refinisher
Floor Sanding Machine Operator
Job Outlook for Floor Sanders and Finishers
There were about 7,300 jobs for Floor Sanders and Finishers in 2016 (in the United States).
New jobs are being produced at a rate of 9.5% which is lower than average. The Bureau of Labor Statistics predicts 700 new jobs for Floor Sanders and Finishers by 2026. There will be an estimated 700 positions for Floor Sander & Finisher per year.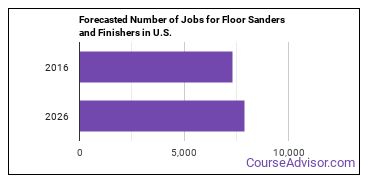 The states with the most job growth for Floor Sanders and Finishers are Colorado, Washington, and Wisconsin.
Watch out if you plan on working in Wyoming, Pennsylvania, or Iowa. These states have the worst job growth for this type of profession.
Salary for Floor Sanders and Finishers
The salary for Floor Sanders and Finishers ranges between about $25,380 and $56,850 a year. A Floor Sander and Finisher median salary is $37,510.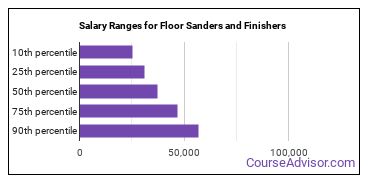 Below is a list of the median annual salaries for jobs of this type in different U.S. states.
Annual Mean Salary by State

| State | Annual Mean Salary |
| --- | --- |
| Illinois | $62,090 |
| California | $50,470 |
| New Jersey | $50,360 |
| Washington | $50,160 |
| New York | $45,950 |
| Michigan | $43,570 |
| Oregon | $41,680 |
| Ohio | $41,620 |
| Texas | $40,940 |
| Maryland | $40,120 |
| Delaware | $39,770 |
| New Hampshire | $39,140 |
| Massachusetts | $38,480 |
| Tennessee | $38,200 |
| Virginia | $37,900 |
| Wisconsin | $37,570 |
| Pennsylvania | $37,350 |
| Nevada | $36,890 |
| Colorado | $35,540 |
| Nebraska | $34,300 |
| Arkansas | $33,470 |
| North Carolina | $31,180 |
| Missouri | $30,970 |
Tools & Technologies Used by Floor Sanders and Finishers
Although they're not necessarily needed for all jobs, the following technologies are used by many Floor Sanders and Finishers:
Microsoft Excel
Floor planning software
Becoming a Floor Sander & Finisher
Education needed to be a Floor Sander and Finisher: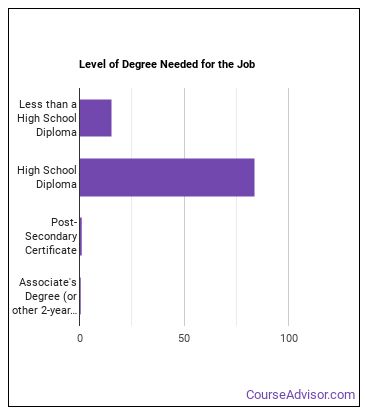 How many years of work experience do I need?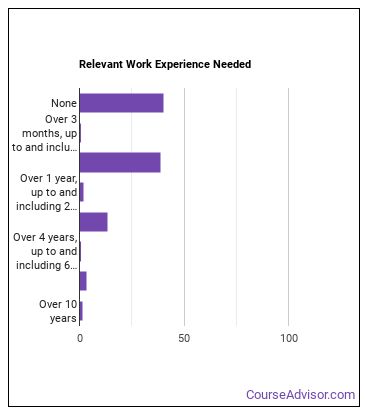 Where Floor Sanders and Finishers Work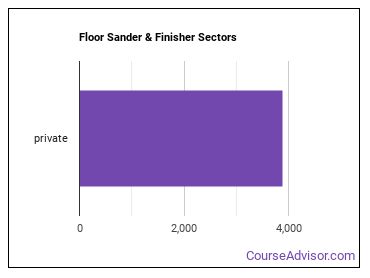 References
Image Credit: Via Wikimedia Commons