What You Need to Know About Flight Attendants
Flight Attendant Job Description Provide personal services to ensure the safety, security, and comfort of airline passengers during flight. Greet passengers, verify tickets, explain use of safety equipment, and serve food or beverages.
List of Flight Attendant Job Duties
Reassure passengers when situations such as turbulence are encountered.
Administer first aid to passengers in distress.
Greet passengers boarding aircraft and direct them to assigned seats.
Conduct periodic trips through the cabin to ensure passenger comfort and to distribute reading material, headphones, pillows, playing cards, and blankets.
Inspect passenger tickets to verify information and to obtain destination information.
Attend preflight briefings concerning weather, altitudes, routes, emergency procedures, crew coordination, lengths of flights, food and beverage services offered, and numbers of passengers.
Skills Needed to be a Flight Attendant
When polled, Flight Attendants say the following skills are most frequently used in their jobs:
Speaking: Talking to others to convey information effectively.
Service Orientation: Actively looking for ways to help people.
Social Perceptiveness: Being aware of others' reactions and understanding why they react as they do.
Active Listening: Giving full attention to what other people are saying, taking time to understand the points being made, asking questions as appropriate, and not interrupting at inappropriate times.
Coordination: Adjusting actions in relation to others' actions.
Other Flight Attendant Job Titles
Airplane Flight Attendant
Flight Attendant/Inflight Manager
Door and Arrival Attendant
In-Flight Crew Member
Flight Crew Member
Are There Job Opportunities for Flight Attendants?
There were about 116,600 jobs for Flight Attendants in 2016 (in the United States).
New jobs are being produced at a rate of 10.2% which is lower than average. The Bureau of Labor Statistics predicts 11,900 new jobs for Flight Attendants by 2026. The BLS estimates 14,200 yearly job openings in this field per year.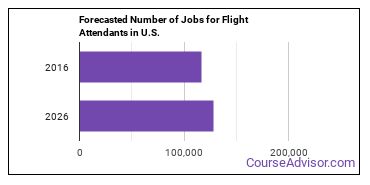 The states with the most job growth for Flight Attendants are Florida, California, and Texas.
Watch out if you plan on working in Idaho, Connecticut, or Alaska. These states have the worst job growth for this type of profession.
Salary for Flight Attendants
The average yearly salary of a Flight Attendant ranges between $28,950 and $80,870. A Flight Attendant median salary is $56,000.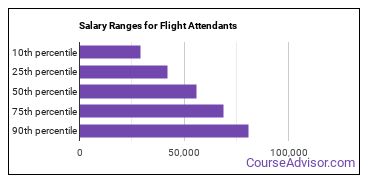 How much do Flight Attendants make in different U.S. states?
Annual Mean Salary by State

| State | Annual Mean Salary |
| --- | --- |
| Oregon | $80,410 |
| Washington | $77,450 |
| Pennsylvania | $68,410 |
| Arizona | $65,680 |
| Florida | $62,610 |
| Massachusetts | $61,610 |
| Indiana | $60,080 |
| Texas | $58,820 |
| Nevada | $57,190 |
| Michigan | $55,310 |
| North Carolina | $54,190 |
| Illinois | $53,220 |
| Ohio | $52,760 |
| California | $51,990 |
| Minnesota | $50,560 |
| New York | $48,960 |
| Utah | $48,250 |
| Colorado | $47,150 |
What Tools & Technology do Flight Attendants Use?
Although they're not necessarily needed for all jobs, the following technologies are used by many Flight Attendants:
Microsoft Office
Microsoft PowerPoint
Microsoft Excel
Microsoft Windows
Microsoft Word
How to Become a Flight Attendant
What kind of Flight Attendant requirements are there?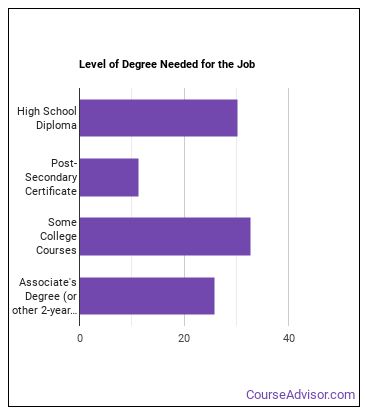 How Long Does it Take to Become Flight Attendant?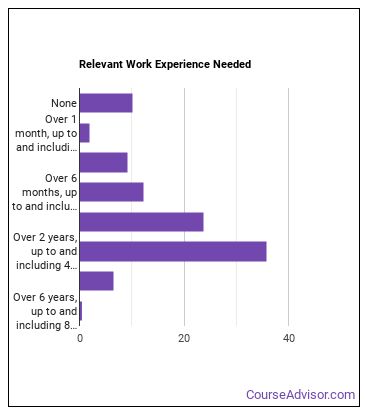 Where do Flight Attendants Work?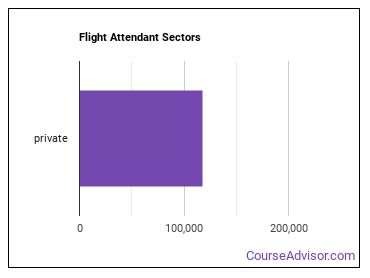 References
Image Credit: Via Wikimedia Commons