What Do Transportation Supervisors Do?
Career Description Directly supervise and coordinate activities of transportation and material-moving machine and vehicle operators and helpers.
Transportation Supervisor Responsibilities
Explain and demonstrate work tasks to new workers or assign training tasks to experienced workers.
Dispatch personnel and vehicles in response to telephone or radio reports of emergencies.
Prepare, compile, and submit reports on work activities, operations, production, or work-related accidents.
Resolve worker problems or collaborate with employees to assist in problem resolution.
Examine, measure, or weigh cargo or materials to determine specific handling requirements.
Perform or schedule repairs or preventive maintenance of vehicles or other equipment.
Things a Transportation Supervisor Should Know How to Do
When polled, Transportation Supervisors say the following skills are most frequently used in their jobs:
Management of Personnel Resources: Motivating, developing, and directing people as they work, identifying the best people for the job.
Active Listening: Giving full attention to what other people are saying, taking time to understand the points being made, asking questions as appropriate, and not interrupting at inappropriate times.
Time Management: Managing one's own time and the time of others.
Coordination: Adjusting actions in relation to others' actions.
Speaking: Talking to others to convey information effectively.
Types of Transportation Supervisors
Surface Supervisor
Route Sales Delivery Drivers Supervisor
Shipping Manager
Concrete Products Dispatcher
Supervisor
Job Outlook for Transportation Supervisors
In 2016, there was an estimated number of 204,200 jobs in the United States for First-Line Supervisors of Transportation and Material-Moving Machine and Vehicle Operators.
New jobs are being produced at a rate of 6.6% which is lower than average. The Bureau of Labor Statistics predicts 13,500 new jobs for Transportation Supervisors by 2026. There will be an estimated 22,600 positions for Transportation Supervisor per year.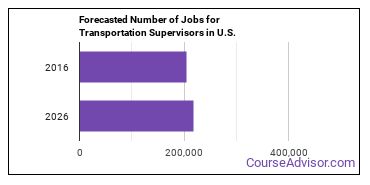 The states with the most job growth for First-Line Supervisors of Transportation and Material-Moving Machine and Vehicle Operators are Texas, California, and Florida.
Watch out if you plan on working in Maine, Delaware, or Alaska. These states have the worst job growth for this type of profession.
What Tools do Transportation Supervisors Use?
Although they're not necessarily needed for all jobs, the following technologies are used by many Transportation Supervisors:
Microsoft PowerPoint
Microsoft Word
Microsoft Office
Microsoft Access
Enterprise resource planning ERP software
Microsoft Excel
SAP
Microsoft Outlook
Becoming a Transportation Supervisor
What kind of Transportation Supervisor requirements are there?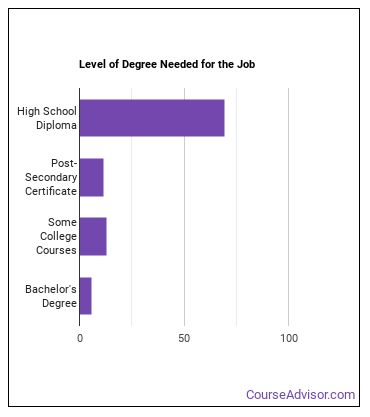 How many years of work experience do I need?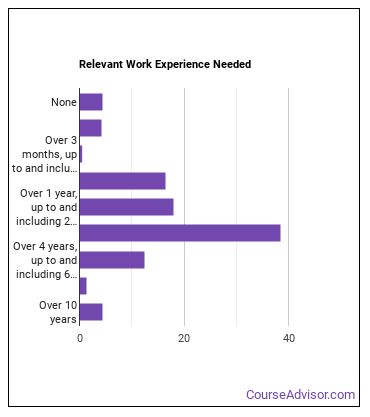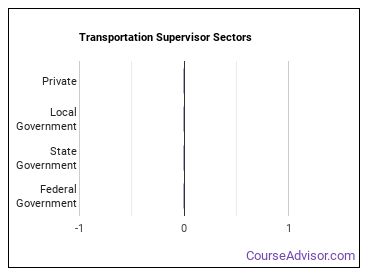 Other Jobs You May be Interested In
Those thinking about becoming Transportation Supervisors might also be interested in the following careers:
Coaches and Scouts
First-Line Supervisors of Animal Husbandry and Animal Care Workers
Career changers with experience as a Transportation Supervisor sometimes find work in one of the following fields:
First-Line Supervisors of Production and Operating Workers
Traffic Technicians
References
Image Credit: Via Wikimedia Commons