What Does it Take to Be a Farm or Ranch Manager?
Farm or Ranch Manager Job Description Plan, direct, or coordinate the management or operation of farms, ranches, greenhouses, aquacultural operations, nurseries, timber tracts, or other agricultural establishments. May hire, train, or supervise farm workers or contract for services to carry out the day-to-day activities of the managed operation. May engage in or supervise planting, cultivating, harvesting, financial, or marketing activities.
What do Farm and Ranch Managers do On a Daily Basis?
Maintain financial, operational, production, or employment records for farms or ranches.
Demonstrate or explain working techniques, practices, or safety regulations to farm or ranch workers.
Evaluate marketing or sales alternatives for farm or ranch products.
Hire, train, or supervise workers engaged in planting, cultivating, irrigating, harvesting, or marketing crops, or in raising livestock.
Change processes such as drying, grading, storing, or shipping to improve efficiency or profitability.
Obtain financing necessary for purchases of machinery, land, supplies, or livestock.
Things a Farm or Ranch Manager Should Know How to Do
These are the skills Farm and Ranch Managers say are the most useful in their careers:
Critical Thinking: Using logic and reasoning to identify the strengths and weaknesses of alternative solutions, conclusions or approaches to problems.
Judgment and Decision Making: Considering the relative costs and benefits of potential actions to choose the most appropriate one.
Speaking: Talking to others to convey information effectively.
Coordination: Adjusting actions in relation to others' actions.
Monitoring: Monitoring/Assessing performance of yourself, other individuals, or organizations to make improvements or take corrective action.
Other Farm or Ranch Manager Job Titles
Cash Grain Farmer
Turf Farmer
Cotton Grower
Farm Rancher
Sow Farm Manager
Job Opportunities for Farm and Ranch Managers
In the United States, there were 1,028,700 jobs for Farmers, Ranchers, and Agricultural Managers in 2016.
Farm or Ranch Manager jobs are decreasing by a rate of -0.8%. This means the total job opportunities are shrinking. The Bureau of Labor Statistics predicts a loss of -8,000 jobs for Farm and Ranch Managers by 2026. The BLS estimates 74,300 yearly job openings in this field per year.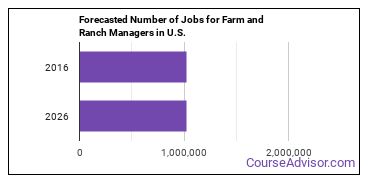 The states with the most job growth for Farmers, Ranchers, and Agricultural Managers are Texas, Arkansas, and Nebraska.
Watch out if you plan on working in California, South Carolina, or Florida. These states have the worst job growth for this type of profession.
Average Farm or Ranch Manager Salary
The average yearly salary of a Farm or Ranch Manager ranges between $35,440 and $136,940. A Farm or Ranch Manager median salary is $67,950.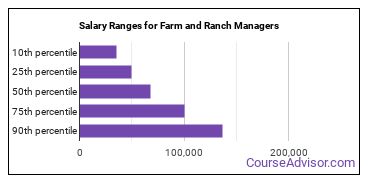 How much do Farmers, Ranchers, and Agricultural Managers make in different U.S. states?
Annual Mean Salary by State

| State | Annual Mean Salary |
| --- | --- |
| North Carolina | $100,370 |
| Minnesota | $95,000 |
| California | $91,670 |
| Nevada | $90,900 |
| Pennsylvania | $90,650 |
| Maryland | $89,660 |
| Washington | $86,640 |
| Wyoming | $84,720 |
| Virginia | $84,630 |
| Georgia | $84,110 |
| Iowa | $82,070 |
| Texas | $81,330 |
| South Carolina | $79,070 |
| Ohio | $78,330 |
| Kentucky | $78,290 |
| Arizona | $75,870 |
| Louisiana | $75,170 |
| Wisconsin | $72,550 |
| Florida | $71,880 |
| Oregon | $68,450 |
| Arkansas | $67,520 |
| Nebraska | $67,190 |
| Michigan | $67,030 |
| Illinois | $66,820 |
| Massachusetts | $65,710 |
| Indiana | $64,030 |
| Missouri | $62,850 |
| Tennessee | $60,490 |
| Idaho | $60,470 |
| Oklahoma | $57,230 |
What Tools & Technology do Farm and Ranch Managers Use?
Although they're not necessarily needed for all jobs, the following technologies are used by many Farm and Ranch Managers:
Accutech Systems Corporation AccuFarm-MGR
Brihzon Solutions SMART Dairy Resource Planning
SAP
EZ-Ranch
Agevo Farm Manager
AgriSoft/CMC AgriSoft/ERP
Microsoft Outlook
Microsoft Word
Microsoft Excel
i.Agri LandMark Farm
How to Become a Farm or Ranch Manager
Are there Farm or Ranch Manager education requirements?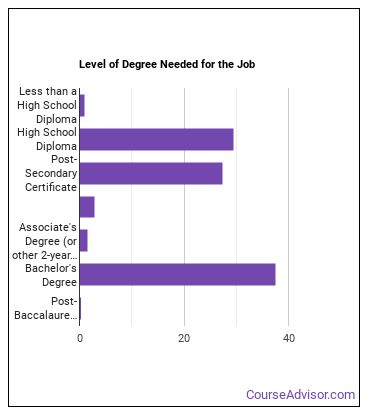 How Long Does it Take to Become Farm or Ranch Manager?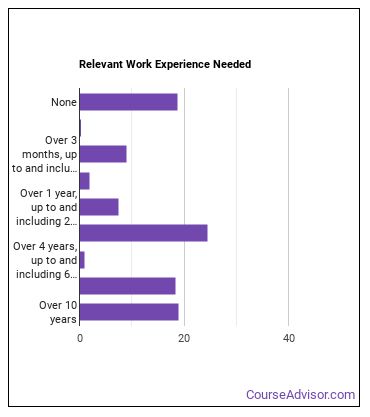 Who Employs Farm and Ranch Managers?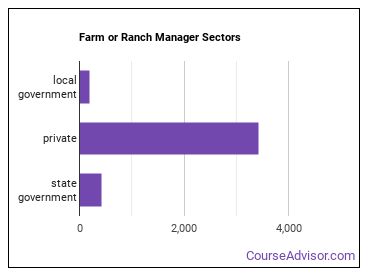 References
Image Credit: Via Wikimedia Commons