What is a Fabric & Apparel Patternmaker?
Fabric & Apparel Patternmaker Definition Draw and construct sets of precision master fabric patterns or layouts. May also mark and cut fabrics and apparel.
What do Fabric and Apparel Patternmakers do On a Daily Basis?
Input specifications into computers to assist with pattern design and pattern cutting.
Determine the best layout of pattern pieces to minimize waste of material, and mark fabric accordingly.
Position and cut out master or sample patterns, using scissors and knives, or print out copies of patterns, using computers.
Discuss design specifications with designers, and convert their original models of garments into patterns of separate parts that can be laid out on a length of fabric.
Create a paper pattern from which to mass-produce a design concept.
Draw details on outlined parts to indicate where parts are to be joined, as well as the positions of pleats, pockets, buttonholes, and other features, using computers or drafting instruments.
What Skills Do You Need to Work as a Fabric & Apparel Patternmaker?
When polled, Fabric and Apparel Patternmakers say the following skills are most frequently used in their jobs:
Critical Thinking: Using logic and reasoning to identify the strengths and weaknesses of alternative solutions, conclusions or approaches to problems.
Active Listening: Giving full attention to what other people are saying, taking time to understand the points being made, asking questions as appropriate, and not interrupting at inappropriate times.
Time Management: Managing one's own time and the time of others.
Judgment and Decision Making: Considering the relative costs and benefits of potential actions to choose the most appropriate one.
Reading Comprehension: Understanding written sentences and paragraphs in work related documents.
Related Job Titles
Embroidery Patternmaker
Pleat Patternmaker
Pattern Designer
Print and Pattern Designer
Assistant Designer
Is There Job Demand for Fabric and Apparel Patternmakers?
In 2016, there was an estimated number of 5,500 jobs in the United States for Fabric and Apparel Patternmakers.
Fabric and Apparel Patternmaker jobs are decreasing by a rate of -16.1%. This means the total job opportunities are shrinking. The Bureau of Labor Statistics predicts a loss of -900 jobs for Fabric and Apparel Patternmakers by 2026. Due to new job openings and attrition, there will be an average of 500 job openings in this field each year.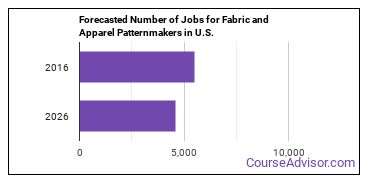 The states with the most job growth for Fabric and Apparel Patternmakers are Colorado, Indiana, and Washington.
Watch out if you plan on working in California, New York, or North Carolina. These states have the worst job growth for this type of profession.
Fabric & Apparel Patternmaker Average Salary
The salary for Fabric and Apparel Patternmakers ranges between about $23,360 and $87,820 a year. The median salary is $40,560.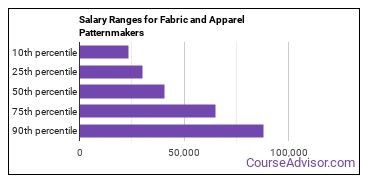 How much do Fabric and Apparel Patternmakers make in each U.S. state?
Annual Mean Salary by State

| State | Annual Mean Salary |
| --- | --- |
| New York | $71,110 |
| California | $54,490 |
| Massachusetts | $52,210 |
| Washington | $49,670 |
| Maryland | $44,040 |
| North Carolina | $44,030 |
| Pennsylvania | $41,200 |
| Michigan | $40,120 |
| Oregon | $37,820 |
| Mississippi | $36,230 |
| Indiana | $35,340 |
| Missouri | $33,600 |
| Tennessee | $32,650 |
| Florida | $32,460 |
| South Carolina | $30,000 |
| Ohio | $29,210 |
| New Jersey | $29,090 |
| Utah | $27,480 |
What Tools do Fabric and Apparel Patternmakers Use?
Below is a list of the types of tools and technologies that Fabric and Apparel Patternmakers may use on a daily basis:
Microsoft Outlook
PatternMaker
Microsoft Office
Microsoft Word
Adobe Systems Adobe Photoshop
Adobe Systems Adobe Illustrator
Gerber Technology AccuMark
Microsoft Excel
How do I Become a Fabric & Apparel Patternmaker?
Individuals working as Fabric and Apparel Patternmakers have obtained the following education levels: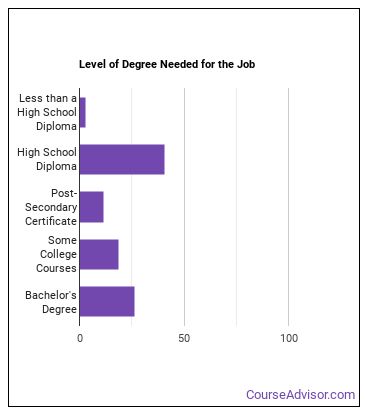 How many years of work experience do I need?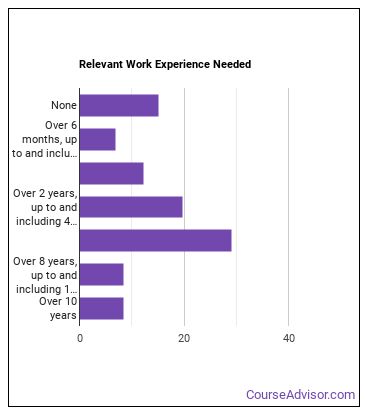 Where Fabric and Apparel Patternmakers Work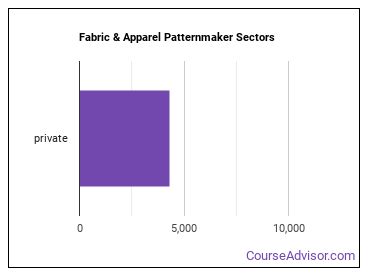 Other Jobs You May be Interested In
Those thinking about becoming Fabric and Apparel Patternmakers might also be interested in the following careers:
Merchandise Displayers and Window Trimmers
Those who work as Fabric and Apparel Patternmakers sometimes switch careers to one of these choices:
References
Image Credit: Via Wikimedia Commons