What Do Endoscopy Technicians Do?
Job Description & Duties Maintain a sterile field to provide support for physicians and nurses during endoscopy procedures. Prepare and maintain instruments and equipment. May obtain specimens.
A Day in the Life of an Endoscopy Technician
Conduct in-service training sessions to disseminate information regarding equipment or instruments.
Clean, disinfect, or calibrate scopes or other endoscopic instruments according to manufacturer recommendations and facility standards.
Position or transport patients in accordance with instructions from medical personnel.
Read current literature, talk with colleagues, or participate in professional organizations or conferences to keep abreast of developments in endoscopy.
Place devices, such as blood pressure cuffs, pulse oximeter sensors, nasal cannulas, surgical cautery pads, and cardiac monitoring electrodes, on patients to monitor vital signs.
Maintain or repair endoscopic equipment.
Qualities of an Endoscopy Technician
When polled, Endoscopy Technicians say the following skills are most frequently used in their jobs:
Reading Comprehension: Understanding written sentences and paragraphs in work related documents.
Critical Thinking: Using logic and reasoning to identify the strengths and weaknesses of alternative solutions, conclusions or approaches to problems.
Active Listening: Giving full attention to what other people are saying, taking time to understand the points being made, asking questions as appropriate, and not interrupting at inappropriate times.
Speaking: Talking to others to convey information effectively.
Writing: Communicating effectively in writing as appropriate for the needs of the audience.
Related Job Titles for this Occupation:
Certified Flexible Endoscope Reprocessor (CFER)
Certified Endoscopy Technician
Certified Flex Endoscope Reprocessor
Gastrointestinal Technician (GI Technician)
Gastroenterology Technician
Job Demand for Endoscopy Technicians
In the United States, there were 97,300 jobs for Healthcare Support Workers in 2016.
New jobs are being produced at a rate of 11.7% which is lower than average. The Bureau of Labor Statistics predicts 11,400 new jobs for Endoscopy Technicians by 2026. There will be an estimated 13,700 positions for Endoscopy Technician per year.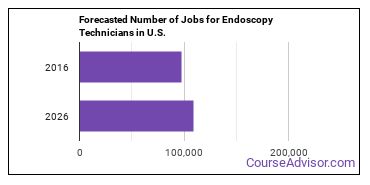 The states with the most job growth for Healthcare Support Workers are California, Texas, and New York.
Watch out if you plan on working in West Virginia, Vermont, or Oklahoma. These states have the worst job growth for this type of profession.
Endoscopy Technician Average Salary
The typical yearly salary for Healthcare Support Workers is somewhere between $23,210 and $56,230. The median salary is $37,830.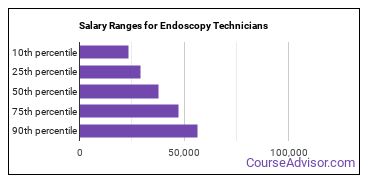 Below is a list of the median annual salaries for jobs of this type in different U.S. states.
Annual Mean Salary by State

| State | Annual Mean Salary |
| --- | --- |
| District of Columbia | $51,830 |
| Delaware | $50,820 |
| Alaska | $45,830 |
| California | $44,820 |
| Washington | $44,230 |
| West Virginia | $43,770 |
| Nevada | $43,110 |
| South Carolina | $42,860 |
| Missouri | $42,800 |
| South Dakota | $42,730 |
| Texas | $42,640 |
| Oregon | $41,890 |
| Virginia | $41,860 |
| Vermont | $41,660 |
| Pennsylvania | $41,530 |
| Georgia | $41,430 |
| Illinois | $41,230 |
| Arizona | $41,210 |
| Oklahoma | $40,710 |
| Massachusetts | $40,690 |
| Wyoming | $40,530 |
| Maryland | $39,820 |
| New Mexico | $39,210 |
| Arkansas | $39,150 |
| Kansas | $38,900 |
| Connecticut | $38,750 |
| Florida | $38,690 |
| Kentucky | $38,570 |
| Nebraska | $38,470 |
| Iowa | $38,420 |
| Ohio | $38,330 |
| North Dakota | $37,830 |
| Utah | $37,720 |
| Hawaii | $37,540 |
| New York | $37,380 |
| Mississippi | $37,330 |
| Rhode Island | $37,320 |
| New Jersey | $36,540 |
| Minnesota | $36,390 |
| Montana | $35,200 |
| Wisconsin | $35,100 |
| Tennessee | $35,030 |
| Idaho | $34,930 |
| Maine | $34,580 |
| Indiana | $34,240 |
| North Carolina | $34,080 |
| Colorado | $33,600 |
| New Hampshire | $32,410 |
| Alabama | $31,290 |
| Michigan | $30,980 |
| Louisiana | $29,380 |
Tools & Technologies Used by Endoscopy Technicians
Below is a list of the types of tools and technologies that Endoscopy Technicians may use on a daily basis:
Microsoft Word
Microsoft Office
MEDITECH software
Microsoft Excel
Where Endoscopy Technicians Work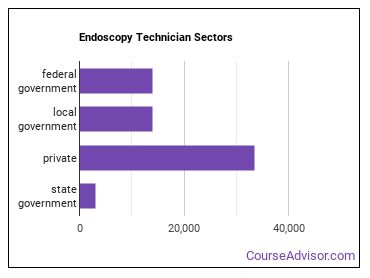 References
Image Credit: Via Wikimedia Commons