What You Need to Know About Document Management Specialists
Example of a Document Management Specialist Job Implement and administer enterprise-wide document management systems and related procedures that allow organizations to capture, store, retrieve, share, and destroy electronic records and documents.
List of Document Management Specialist Job Duties
Develop, document, or maintain standards, best practices, or system usage procedures.
Write, review, or execute plans for testing new or established document management systems.
Implement electronic document processing, retrieval, and distribution systems in collaboration with other information technology specialists.
Administer document and system access rights and revision control to ensure security of system and integrity of master documents.
Propose recommendations for improving content management system capabilities.
Retrieve electronic assets from repository for distribution to users, collecting and returning to repository, if necessary.
Qualities of a Document Management Specialist
Document Management Specialists state the following job skills are important in their day-to-day work.
Reading Comprehension: Understanding written sentences and paragraphs in work related documents.
Active Listening: Giving full attention to what other people are saying, taking time to understand the points being made, asking questions as appropriate, and not interrupting at inappropriate times.
Monitoring: Monitoring/Assessing performance of yourself, other individuals, or organizations to make improvements or take corrective action.
Writing: Communicating effectively in writing as appropriate for the needs of the audience.
Critical Thinking: Using logic and reasoning to identify the strengths and weaknesses of alternative solutions, conclusions or approaches to problems.
Types of Document Management Specialist Jobs
Director
Business Process Analyst
IT Project Manager
Credentialing Specialist
Document Specialist
Document Management Specialist Job Outlook
In 2016, there was an estimated number of 287,200 jobs in the United States for Computer Workers.
New jobs are being produced at a rate of 9.3% which is lower than average. The Bureau of Labor Statistics predicts 26,600 new jobs for Document Management Specialists by 2026. There will be an estimated 22,400 positions for Document Management Specialist per year.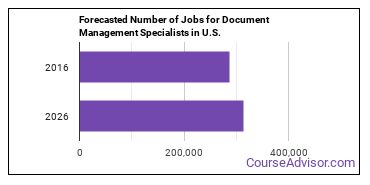 The states with the most job growth for Computer Workers are Washington, California, and Texas.
Watch out if you plan on working in Alaska, Wyoming, or Vermont. These states have the worst job growth for this type of profession.
Document Management Specialist Average Salary
The salary for Computer Workers ranges between about $47,350 and $144,820 a year. The median salary is $90,270.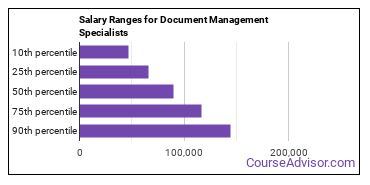 Below is a list of the median annual salaries for jobs of this type in different U.S. states.
Annual Mean Salary by State

| State | Annual Mean Salary |
| --- | --- |
| District of Columbia | $117,540 |
| Maryland | $113,330 |
| New Hampshire | $112,440 |
| Virginia | $105,270 |
| California | $103,270 |
| Colorado | $102,470 |
| Connecticut | $100,340 |
| New Jersey | $99,210 |
| Alaska | $98,830 |
| Massachusetts | $92,110 |
| South Carolina | $92,100 |
| Washington | $91,620 |
| New York | $90,750 |
| Texas | $90,290 |
| Georgia | $90,140 |
| Hawaii | $89,960 |
| North Carolina | $88,650 |
| Alabama | $87,060 |
| Pennsylvania | $87,040 |
| Nebraska | $86,230 |
| Arizona | $85,010 |
| West Virginia | $83,660 |
| Missouri | $82,610 |
| Ohio | $82,440 |
| Minnesota | $81,650 |
| Rhode Island | $81,290 |
| Mississippi | $81,280 |
| South Dakota | $81,250 |
| Idaho | $80,610 |
| Maine | $79,790 |
| Oregon | $79,610 |
| New Mexico | $79,540 |
| Kentucky | $79,420 |
| Indiana | $79,310 |
| Kansas | $79,300 |
| Florida | $78,900 |
| Iowa | $78,810 |
| Oklahoma | $78,490 |
| Utah | $76,890 |
| Michigan | $76,400 |
| Wyoming | $75,780 |
| Wisconsin | $74,600 |
| Tennessee | $74,000 |
| Arkansas | $73,670 |
| Nevada | $72,610 |
| Vermont | $72,220 |
| North Dakota | $70,730 |
| Montana | $68,430 |
| Louisiana | $66,600 |
Tools & Technologies Used by Document Management Specialists
Below is a list of the types of tools and technologies that Document Management Specialists may use on a daily basis:
Microsoft Outlook
IBM BPM Blueprint
Apache Groovy
Linux
Microsoft Access
Adobe Systems Adobe Dreamweaver
Microsoft Visual Basic
Microsoft Project
Microsoft.NET Framework
SAP ERP Financials
Where Document Management Specialists Work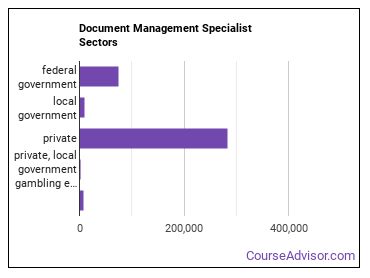 References
Image Credit: Via Wikimedia Commons