What Does it Take to Be a Private Cook?
Job Description & Duties Prepare meals in private homes. Includes personal chefs.
A Day in the Life of a Private Cook
Prepare meals in private homes according to employers' recipes or tastes, handling all meals for the family and possibly for other household staff.
Keep records pertaining to menus, finances, and other business-related issues.
Cool, package, label, and freeze foods for later consumption and provide instructions for reheating.
Stock, organize, and clean kitchens and cooking utensils.
Travel with employers to vacation homes to provide meal preparation at those locations.
Serve meals and snacks to employing families and their guests.
Qualities of a Private Cook
When polled, Private Cooks say the following skills are most frequently used in their jobs:
Critical Thinking: Using logic and reasoning to identify the strengths and weaknesses of alternative solutions, conclusions or approaches to problems.
Service Orientation: Actively looking for ways to help people.
Management of Material Resources: Obtaining and seeing to the appropriate use of equipment, facilities, and materials needed to do certain work.
Reading Comprehension: Understanding written sentences and paragraphs in work related documents.
Active Listening: Giving full attention to what other people are saying, taking time to understand the points being made, asking questions as appropriate, and not interrupting at inappropriate times.
Other Private Cook Job Titles
Certified Personal Chef (CPC)
Cooking Chef
Holiday Food Prepper
Cook
Personal Chef
Is There Job Demand for Private Cooks?
In 2016, there was an estimated number of 25,000 jobs in the United States for Cooks, Private Household.
New jobs are being produced at a rate of 5.5% which is lower than average. The Bureau of Labor Statistics predicts 1,400 new jobs for Private Cooks by 2026. There will be an estimated 3,700 positions for Private Cook per year.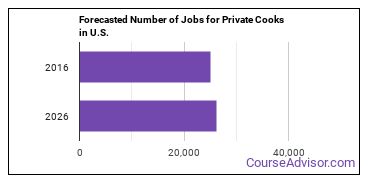 The states with the most job growth for Cooks, Private Household are Connecticut, Washington, and Arizona.
Watch out if you plan on working in Pennsylvania, Oklahoma, or North Dakota. These states have the worst job growth for this type of profession.
Average Private Cook Salary
The salary for Cooks, Private Household ranges between about $25,610 and $62,600 a year. The median salary is $37,590.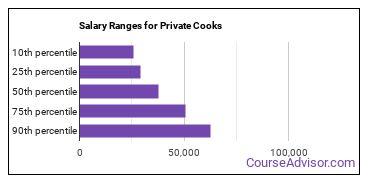 How much do Cooks, Private Household make in different U.S. states?
Annual Mean Salary by State

| State | Annual Mean Salary |
| --- | --- |
| California | $40,080 |
Tools & Technologies Used by Private Cooks
Below is a list of the types of tools and technologies that Private Cooks may use on a daily basis:
YouTube
Intuit QuickBooks
Who Employs Private Cooks?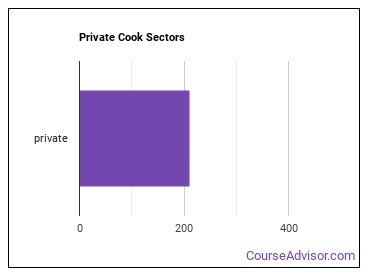 References
Image Credit: Via Wikimedia Commons