What You Need to Know About Commercial Divers
Job Description: Work below surface of water, using scuba gear to inspect, repair, remove, or install equipment and structures. May use a variety of power and hand tools, such as drills, sledgehammers, torches, and welding equipment. May conduct tests or experiments, rig explosives, or photograph structures or marine life.
Life as a Commercial Diver: What Do They Do?
Install pilings or footings for piers or bridges.
Perform activities related to underwater search and rescue, salvage, recovery, or cleanup operations.
Inspect the condition of underwater steel or wood structures.
Cultivate or harvest marine species or perform routine work on fish farms.
Drill holes in rock and rig explosives for underwater demolitions.
Take test samples or photographs to assess the condition of vessels or structures.
Commercial Diver Required Skills
Below is a list of the skills most Commercial Divers say are important on the job.
Critical Thinking: Using logic and reasoning to identify the strengths and weaknesses of alternative solutions, conclusions or approaches to problems.
Active Listening: Giving full attention to what other people are saying, taking time to understand the points being made, asking questions as appropriate, and not interrupting at inappropriate times.
Operation Monitoring: Watching gauges, dials, or other indicators to make sure a machine is working properly.
Speaking: Talking to others to convey information effectively.
Quality Control Analysis: Conducting tests and inspections of products, services, or processes to evaluate quality or performance.
Types of Commercial Diver Jobs
Aquarium Diver
Tender
Dive Tender
Diving Supervisor
Submarine Diver
Is There Going to be Demand for Commercial Divers?
In the United States, there were 4,100 jobs for Commercial Divers in 2016.
New jobs are being produced at a rate of 10.8% which is lower than average. The Bureau of Labor Statistics predicts 400 new jobs for Commercial Divers by 2026. There will be an estimated 400 positions for Commercial Diver per year.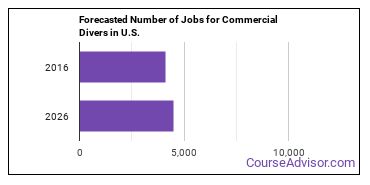 The states with the most job growth for Commercial Divers are Florida, Louisiana, and Texas.
Watch out if you plan on working in Wisconsin, New Jersey, or Alabama. These states have the worst job growth for this type of profession.
Commercial Diver Salary
The typical yearly salary for Commercial Divers is somewhere between $30,810 and $108,170. A Commercial Diver median salary is $49,140.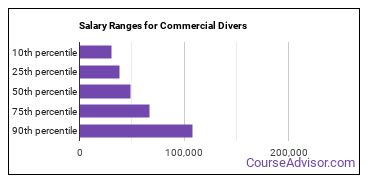 How much do Commercial Divers make in each U.S. state?
Annual Mean Salary by State

| State | Annual Mean Salary |
| --- | --- |
| Alaska | $86,600 |
| Washington | $84,480 |
| New Jersey | $77,080 |
| New Hampshire | $75,500 |
| Connecticut | $72,400 |
| California | $70,540 |
| New York | $68,210 |
| Indiana | $65,860 |
| Maryland | $59,710 |
| Alabama | $56,410 |
| Michigan | $53,590 |
| Virginia | $50,950 |
| Texas | $50,130 |
| Louisiana | $46,720 |
| Florida | $43,700 |
| Tennessee | $41,960 |
| North Carolina | $38,430 |
| Missouri | $38,340 |
| Ohio | $36,270 |
| South Carolina | $31,270 |
Becoming a Commercial Diver
What education or degrees do I need to become a Commercial Diver?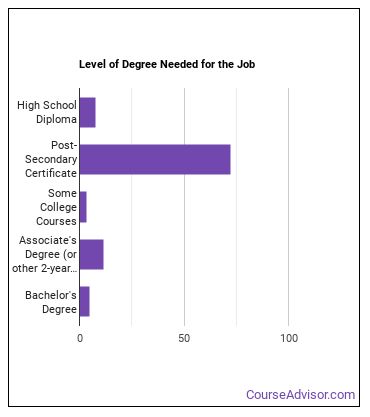 How many years of work experience do I need?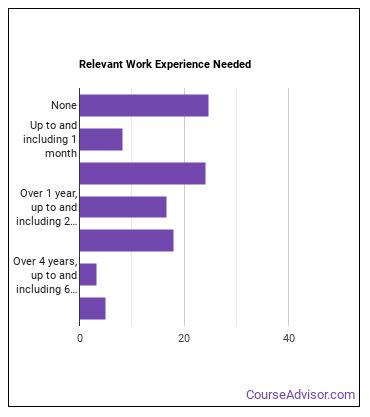 Where do Commercial Divers Work?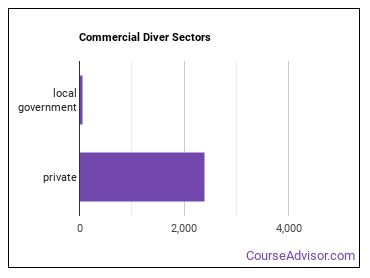 Similar Careers
Are you already one of the many Commercial Divers in the United States? If you're thinking about changing careers, these fields are worth exploring:
Forest Fire Fighting and Prevention Supervisors
References
Image Credit: Via Wikimedia Commons