Life As an Anthropologist
Example of an Anthropologist Job Research, evaluate, and establish public policy concerning the origins of humans; their physical, social, linguistic, and cultural development; and their behavior, as well as the cultures, organizations, and institutions they have created.
A Day in the Life of an Anthropologist
Collect information and make judgments through observation, interviews, and review of documents.
Write about and present research findings for a variety of specialized and general audiences.
Plan and direct research to characterize and compare the economic, demographic, health care, social, political, linguistic, and religious institutions of distinct cultural groups, communities, and organizations.
Observe the production, distribution, and consumption of food to identify and mitigate threats to food security.
Identify key individual cultural collaborators, using reputational and positional selection techniques.
Participate in forensic activities, such as tooth and bone structure identification, in conjunction with police departments and pathologists.
What an Anthropologist Should Know
Below is a list of the skills most Anthropologists say are important on the job.
Reading Comprehension: Understanding written sentences and paragraphs in work related documents.
Writing: Communicating effectively in writing as appropriate for the needs of the audience.
Active Listening: Giving full attention to what other people are saying, taking time to understand the points being made, asking questions as appropriate, and not interrupting at inappropriate times.
Speaking: Talking to others to convey information effectively.
Science: Using scientific rules and methods to solve problems.
Types of Anthropologists
Applied Cultural Anthropologist
Research Director
Scientist
Ethnologist
Physical Anthropologist
Anthropologist Job Outlook
In 2016, there was an estimated number of 7,600 jobs in the United States for Anthropologists and Archeologists.
New jobs are being produced at a rate of 4.5% which is lower than average. The Bureau of Labor Statistics predicts 300 new jobs for Anthropologists by 2026. Due to new job openings and attrition, there will be an average of 700 job openings in this field each year.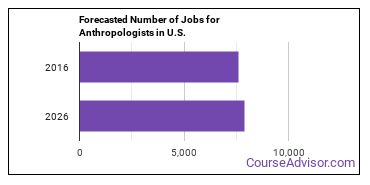 The states with the most job growth for Anthropologists and Archeologists are California, Washington, and Colorado.
Watch out if you plan on working in Pennsylvania, Wyoming, or West Virginia. These states have the worst job growth for this type of profession.
Average Anthropologist Salary
Anthropologists and Archeologists Make between $36,840 and $97,170 a year. An Anthropologist median salary is $62,410.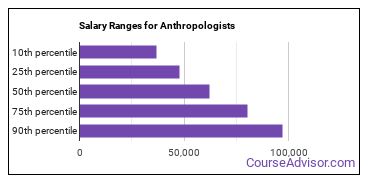 How much do Anthropologists and Archeologists make in each U.S. state?
Annual Mean Salary by State

| State | Annual Mean Salary |
| --- | --- |
| Massachusetts | $91,140 |
| Hawaii | $82,550 |
| Washington | $74,300 |
| Nebraska | $74,280 |
| Virginia | $72,480 |
| Texas | $71,590 |
| Idaho | $71,520 |
| Pennsylvania | $70,770 |
| Louisiana | $68,690 |
| New York | $67,860 |
| Georgia | $67,550 |
| Wyoming | $67,400 |
| California | $67,030 |
| Utah | $66,410 |
| New Jersey | $64,950 |
| Arizona | $64,660 |
| Colorado | $63,940 |
| North Carolina | $63,690 |
| Ohio | $63,280 |
| Oregon | $63,090 |
| Montana | $62,690 |
| Illinois | $62,650 |
| South Carolina | $62,230 |
| North Dakota | $62,110 |
| Nevada | $60,480 |
| Kentucky | $59,740 |
| Tennessee | $59,690 |
| New Mexico | $58,300 |
| Arkansas | $58,240 |
| Missouri | $56,880 |
| Oklahoma | $56,150 |
| Wisconsin | $55,720 |
| Alabama | $54,390 |
| Florida | $54,130 |
| Maryland | $53,680 |
| South Dakota | $52,340 |
| West Virginia | $50,550 |
Tools & Technologies Used by Anthropologists
Below is a list of the types of tools and technologies that Anthropologists may use on a daily basis:
Adobe Systems Adobe Illustrator
The MathWorks MATLAB
IBM SPSS Statistics
SAS
Adobe Systems Adobe Dreamweaver
Microsoft Outlook
Microsoft Excel
ESRI ArcGIS software
Microsoft Access
Microsoft Word
Where Anthropologists Work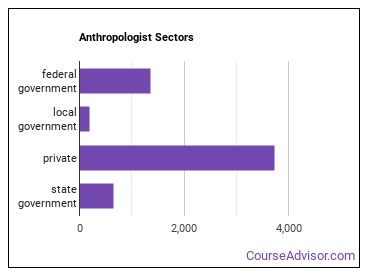 Similar Careers
Those interested in being an Anthropologist may also be interested in:
Poets, Lyricists and Creative Writers
Environmental Science Professors
Agricultural Sciences Professors
Are you already one of the many Anthropologists in the United States? If you're thinking about changing careers, these fields are worth exploring:
Foreign Language and Literature Professors
References
Image Credit: Via Wikimedia Commons