All About Animal Breeders
Job Description: Select and breed animals according to their genealogy, characteristics, and offspring. May require knowledge of artificial insemination techniques and equipment use. May involve keeping records on heats, birth intervals, or pedigree.
A Day in the Life of an Animal Breeder
Feed and water animals, and clean and disinfect pens, cages, yards, and hutches.
Examine semen microscopically to assess and record density and motility of gametes, and dilute semen with prescribed diluents, according to formulas.
Record animal characteristics such as weights, growth patterns, and diets.
Clip or shear hair on animals.
Select animals to be bred, and semen specimens to be used, according to knowledge of animals, genealogies, traits, and desired offspring characteristics.
Exercise animals to keep them in healthy condition.
Qualities of an Animal Breeder
When polled, Animal Breeders say the following skills are most frequently used in their jobs:
Critical Thinking: Using logic and reasoning to identify the strengths and weaknesses of alternative solutions, conclusions or approaches to problems.
Active Listening: Giving full attention to what other people are saying, taking time to understand the points being made, asking questions as appropriate, and not interrupting at inappropriate times.
Speaking: Talking to others to convey information effectively.
Science: Using scientific rules and methods to solve problems.
Active Learning: Understanding the implications of new information for both current and future problem-solving and decision-making.
Types of Animal Breeders
Fur Farmer
Animal Husbandman
Husbandry Technician
Livestock Rancher
Equine Manager
Job Outlook for Animal Breeders
In the United States, there were 9,000 jobs for Animal Breeders in 2016.
New jobs are being produced at a rate of 2% which is lower than average. The Bureau of Labor Statistics predicts 200 new jobs for Animal Breeders by 2026. There will be an estimated 1,400 positions for Animal Breeder per year.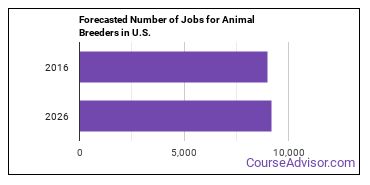 The states with the most job growth for Animal Breeders are Texas, Iowa, and Nebraska.
Watch out if you plan on working in North Carolina, Maryland, or Illinois. These states have the worst job growth for this type of profession.
How Much Does an Animal Breeder Make?
The salary for Animal Breeders ranges between about $25,220 and $67,180 a year. The median salary is $37,060.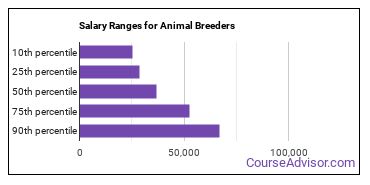 How much do Animal Breeders make in each U.S. state?
Annual Mean Salary by State

| State | Annual Mean Salary |
| --- | --- |
| Ohio | $64,700 |
| Washington | $59,980 |
| Missouri | $49,500 |
| Virginia | $48,230 |
| New York | $45,010 |
| New Jersey | $44,920 |
| Tennessee | $44,640 |
| Kentucky | $43,880 |
| Wisconsin | $40,060 |
| Texas | $40,000 |
| California | $39,360 |
| Florida | $38,720 |
| South Dakota | $38,230 |
| Iowa | $33,880 |
| Michigan | $33,100 |
Tools & Technologies Used by Animal Breeders
Below is a list of the types of tools and technologies that Animal Breeders may use on a daily basis:
Microsoft Excel
Microsoft Office
Becoming an Animal Breeder
Learn what Animal Breeder education requirements there are.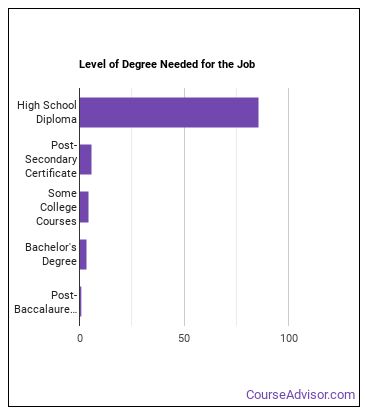 How many years of work experience do I need?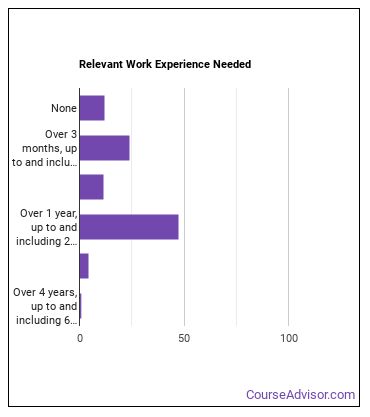 Where Animal Breeders Work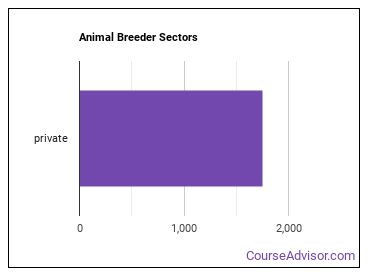 References
Image Credit: Via Wikimedia Commons