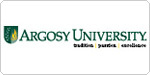 Selected School: Argosy University
Description: 

You can make a difference in the world. Argosy University can help you do it.

With locations across the nation Argosy University offers graduate degree programs in Business, Education, Psychology and Counseling. Many instructors are working professionals with years of experience. That means you will be learning real-world applications you can use from day one, not isolated theories. We also understand that you have a life outside of our classroom. That's why, for some programs, we enable you to customize your schedule by offering evening, weekend, or online classes. Whether your goal is to complete your bachelor's degree or pursue a master's or doctoral degree, you'll find your Argosy University education to be both relevant and flexible. Discover how earning your degree from Argosy University can help you get a start on a new degree and an exciting career.  (Not all programs are available at all locations.)




Financial Aid

A wide range of financial aid options are available to students who qualify. Argosy University offers access to federal aid programs, work-study, and merit-based awards.




Career Services

At some Argosy University campuses, Offices of Career Services have been established to assist currently enrolled students in developing their career plans and reaching their employment or graduate school goals. Students can also register on an online career services system to take advantage of select services from a distance, such as degree specific career e-mail lists, national job listings, and virtual job fairs.




Argosy University Campus Locations



Atlanta
Chicago
Dallas
Denver
Hawai'i
Nashville
Orange County
Phoenix
Salt Lake City
San Diego
San Francisco
Sarasota
Schaumburg
Seattle
Tampa
Twin Cities
Northern Virginia
Programs, credential levels, technology, and scheduling options vary by school and are subject to change. Not all online programs are available to residents of all U.S. states. Administrative office: Argosy University, 601 South Lewis Street, Orange, CA 92868 © 2018 Argosy University. All rights reserved. Our email address is materialsreview@argosy.edu.
For gainful employment data please visit auprograms.info.
Some programs are not available in all states. To find out if your program is available in your state, please contact an admissions representative prior to enrollment.
Show more
Tell us about yourself so we can provide helpful info about this school