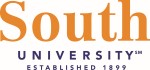 Selected School: South University
Description: 

A 

CENTURY

 OF 

ACADEMIC

 

EXCELLENCE




South University enjoys a long-standing tradition of excellence in education and personalized student attention. The University traces its heritage to 1899, when Dr. John Draughon established Draughon's Practical Business College in Savannah, Georgia.




Since its humble beginnings, South University has experienced continued growth transforming from a two-year college into a four-year University offering associate's, bachelor's, master's and doctorate degree programs with campus locations in Columbia, South Carolina; Montgomery, Alabama; Richmond, Virginia; Savannah, Georgia; Novi, Michigan; Tampa, Florida; VA Beach, Virginia; West Palm Beach, Florida; Charlotte, North Carolina; Durham, North Carolina and Atlanta, Georgia.




Today, South University continues to build on its more than a century of academic excellence by continuing to be a recognized educator in higher education.




Accreditation & Licensing: http://www.southuniversity.edu/about/accreditation.aspx?h=1




South University Administrative Address

709 Mall Boulevard, Savannah, GA 31406-4805




Programs, credential levels, technology, and scheduling options vary by school and are subject to change. Not all online programs are available to residents of all U.S. states. Administrative office: South University, 709 Mall Boulevard, Savannah, GA 31406-4805 © 2018 South University. All rights reserved. Our email address is materialsreview@southuniversity.edu.




See suprograms.info for program duration, tuition, fees, and other costs, median debt, salary data, alumni success, and other important info.




Some programs are not available in all states. To find out if your program is available in your state, please contact an admissions representative prior to enrollment.
Show more
Tell us about yourself so we can provide helpful info about this school