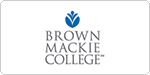 Selected School: Brown Mackie College system of schools
Description: 

Brown Mackie College is a system of over 25 schools throughout North America. Programs, credential levels, technology, and scheduling options vary by school and are subject to change. Administrative office: Brown Mackie College, 625 Eden Park Drive, Suite 1100; Cincinnati, OH 45202 © 2015 Brown Mackie College. All rights reserved. Our email address is materialsreview@brownmackie.edu.




See bmcprograms.info for program duration, tuition, fees, and other costs, median debt, salary data, alumni success, and other important info. .
Show more
Tell us about yourself so we can provide helpful info about this school