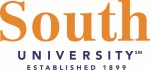 Selected School: South University
Description: 

Financial planning is available to all students.




Financial Aid is available to those who qualify.




Online Convenience

South University offers a wide variety of convenient online programs in business, nursing, healthcare, criminal justice and information technology. South University online programs provide you with the freedom to attend class any time – day or night – from anywhere you connect to the Internet. At South University, you are in control of your education.




Excellence in Education

Established in 1899, South University has delivered quality education and personal attention to students for more than a century. As a student in one of their online programs you will receive the same degree, quality instruction, variety of learning options and level of service found at our five campus locations. All degrees for online students are conferred from the Savannah, Georgia campus.




Program Key:

Associate's

 (A.S.) = Associate of Science

Bachelor's 

(B.S.) = Bachelor of Science

(B.A.) = Bachelor of Arts

Master's 

(M.A.)= Master of Arts

(MBA) = Master of Business Administration

(M.S.) = Master of Science





Accreditation & Licensing: http://www.southuniversity.edu/about/accreditation.aspx?h=1




Administrative Office South University, Online Programs 709 Mall Boulevard, Savannah, GA 31406




Programs, credential levels, technology, and scheduling options vary by school and are subject to change. Not all online programs are available to residents of all U.S. states. Administrative office: South University, 709 Mall Boulevard, Savannah, GA 31406-4805 © 2018 South University. All rights reserved. Our email address is materialsreview@southuniversity.edu.




See suprograms.info for program duration, tuition, fees, and other costs, median debt, federal salary data, alumni success, and other important info.




Some programs are not available in all states. To find out if your program is available in your state, please contact an admissions representative prior to enrollment.
Show more
Tell us about yourself so we can provide helpful info about this school